What to see, what to read, what to do
In the name of imagination
They are, alongside music, one of the purest forms of stimulating the imagination – and, consequently, the creativity. For more stimuli and offers that technology provides us, books will always be the beginning and the end of the most basic way, and therefore magic way, of dreaming.
Lee Krasner: Living Colour, by Eleanor Nairne, Thames & Hudson (2019), € 41,92.
Henry Taylor, by Rachel Zaadzi Ghansah, Zadie Smith, Sarah Lewis and Charles Gaines, Rizzoli Electa (2018), €54.
Dennis Hopper. Photographs 1961-1967, by Dennis Hopper, Tony Shafrazi, Victor Bockris, Walter Hopps, Jessica Hundley, Taschen (2011), €50.
Peter Marino: The Luxury Edition, by Brad Goldfarb, Phaidon (2016), €300.
Francis Bacon or the Measure of Excess, by Yves Peyré, Acc Art Books (2020), €53,90.
The Palais Bulles of Pierre Cardin, by Jean-Pascal Hesse, Assouline (2012), €65.
Jean-Michel Frank, by Laure Verchère and Jared Goss, Assouline (2019), €250.
Cindy Sherman, by Rochelle Steiner, Erika Balsom, Magda Keaney and Paul Moorhouse, Rizzoli Electa (2019), €38.
Nan Goldin: The Devil's Playground, by Nan Goldin, Phaidon (2003), €99,95.
Pablo Picasso and Marie-Therese: L'Amour Fou, by John Richardson, Diana Widmaier Picasso and Elizabeth Cowling, Rizzoli (2011), €83.
Cecil Beaton: The Art of the Scrapbook, by Cecil Belaton, Assouline (2010), €250.
Mies, by Detlef Mertins, Phaidon (2014), €125.
Francesca Woodman: On Being an Angel, edited by Anna Tellgren, Koenig Books (2016), €36,40.
Joel Meyerowitz: Where I Find Myself: a Lifetime Retrospective, by Colin Westerbeck, Laurence King (2018), €49,86.
Cy Twombly: A Monograph, by Richard Leeman, Flammarion (2005), €103.
So Far So Goude, by Jean-Paul Goude, Assouline (2005), €95.
Ai Weiwei. 40th Anniversary Edition, by Ai Weiwei and Hans Werner Holzwarth, Taschen (2020), €20.
Atlas of Mid-Century Modern Houses, by Dominic Bradbury, Phaidon (2020), €125.
Warhol on Basquiat. The Iconic relationship told in Andy Warhol's Words and Pictures, by Michael Dayton Hermann in collaboration with the Andy Warhol Foundation for the Visual Arts, Taschen (2021), €50.
Beatriz Milhazes (Collector's Edition), by Hans Werner Holzwarth, Taschen (2018), €1.000.
In the name of art
One is, briefly, one of the most charming rural hotels of the country. The other is, even more briefly, a microcosmos for everything that has to do with Art. During the lockdown, both have opened their doors to national and international artists.
Craveiral Farmhouse
The destination in São Teotónio, in Alentejo, has always fulfilled expertly its purpose as a rural refuge, with privileged views and the slow living agenda. That is why it wasn't hard to imagine this conjecture of ideal parameters for another goal that benefits from this framework: the creative process. In a time where tourism and the hotel business continue to suffer a downfall due to these pandemic times, creativity has plagued the property, in January, with a parallel idea – make the location an artistic residence for five names of the national and international Art. Entitled Blank Residency, the initiative (the first of its kind for that space), which resulted from a partnership with the Londoner platform Blank100, offered, between 5 and 26 of January, to Alice Morey (Germany), Dennis Buck (Germany), Gonçalo Sena (Portugal), Marlene Huissoud (France) and Violetta Ehnsperg (Austria) a house each, equipped with the necessary material and creativity in every corner, in and outside of the walls: the house exists but the creative "studio" doesn't find a fixed placed and the choice is up to the inspiration of the artist, who can choose to isolate or explore his/hers creative flux outdoors. The idea of Carla Benzing and Nadine Cordial, the names behind the organization of this residence, was to offer a start of the year without distractions in favour of a more in tune cultural year. And it worked, taking into account the final work of each one of the artists. More information on the rural hotel in craveiral.pt
Melides Art
This ecosystem, which intends to promote and exponentiate the creative process, denounces the purpose in its own name. In a set of accommodations that constantly fills itself to give way to concerts, readings and artistic presentations, the space of minimalistic lines that subtly integrate into the landscape, also rapidly empties itself to become the home to names of the entertainment industry in a way to stimulate inspiration, whether it being through the silence of the scenarios with vegetation as far as the eye can see, which give way to concentration, or through the zero distractions that the place and surroundings naturally provide. From producers such as Kel-P Vibes (Burna Boy, Mr Eazi, Beyoncé), that will "land" here in the next few weeks, to composers like Lucas Argel, Rao Kyao, Salvador Sobral, just to name a few, if these walls could talk, they would play the most beautiful songs, recite the most honest poems and delate the most unusual brainstormings. That is why, before such an incubator of creativity, the next step was as intuitive as mandatory: launch a record label. Offering the location for the creation, M.A.R. Melides Art Records sees the process happening from beginning to end, making its arrival to the public, also, to witness its creative process. Born out of the already emblematic artistic laboratory Melides Art, M.A.R. potentiates now the return of Jon Luz to the recordings, and at the same time putting out albums from the french artist Marie Minet and the Portuguese JURA, just to start a list of projects that privileges experimentation and the breaking of boundaries of artistic expression. If this is not the postal code for creativity than what is? More information on melidesart.com and melidesartrecords.net.
In the name of creativity
What to do when everything is stagnant, closed, cancelled? Keep on creating. That's what these four artists have been doing, that not for a moment have turned their back on their crafts.
João Lencastre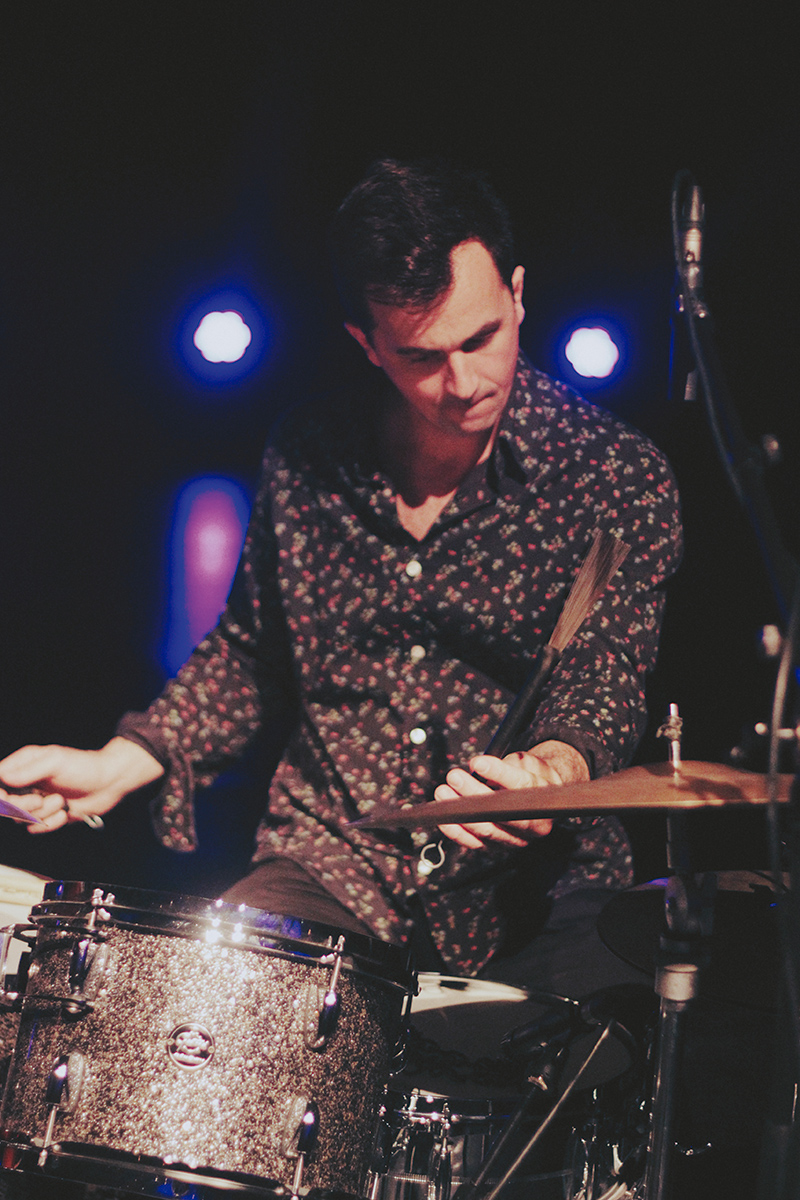 João Lencastre is a drummer and composer, but minimize his work to these two strands only is too simplistic. Natural from Lisbon, he began playing the drums at 13 years old and, since then, has been involved in countless projects, which go from jazz to rock, afrobeat to reggae, through metal and world music. Currently, at 42 years old, Lencastre has already stepped on stages all over the world and recorded with names like David Binney, Bill Carrothers, Leo Genovese, Nelson Cascais, Blasted Mechanism, Tiago Bettencourt, and many others. He has released seven albums, all of them with a great critic reception, national and international, being the most recent one, Parallel Realities accomplished with some of the most innovative musicians of the Portuguese jazz avant-garde scene. The pandemic is just a parenthesis in his long and intense creative activity, which doesn't seem to be slowing down. On the contrary.
What have you been doing?
Besides my daily routine of practising an instrument, I'm at the moment finishing the arrangements for my new record which I'm going to record soon. It was supposed to be recorded in January but, because of the new lockdown, it had to be postponed. And so I made the most of it to change and refine a few things. I also have been exploring the world of electronic music and composing, with ideas that appear.
How has this new lockdown affected your creativity?
It positively affected me, as it had already in the first lockdown. The fact that I have to be stuck at home allowed me to have more time and create routines that normally wouldn't be possible. But to help me keep organized and not neglect, I created a calendar where I plan more or less what I have to do each day.
What projects were suspended because of quarantine?
I had a few concerts with my group in January that would precede the recording and in February and March, I had several concerts with Tiago Bettencourt for the presentation of the new record.
What do you have up your sleeve when everything goes "back to normal"?
As soon as this lockdown is over I'm finally recording my new record. It has been a challenge, not only because of the imposed conditions of the pandemic, having to deal with the fact that two of the musicians don't leave in Portugal, and also being the first time that I write music for such a wide formation, an octet. But what has been challenging has also been rewarding. Then, there are various ideas that I want to materialize, not only in jazz and improvisation but also in the electronic area. I would really like to be able to soon do some live sets and create a scenario with a lights game and a dancer with a contemporary dance style. And prepare as well, a show with a band, merging electronic elements with acoustic ones, maintaining the "dance music" strand. But these kinds of shows can't be for a sitting audience, so it will have to wait a little longer for when everything goes "back to normal".
Margarida Fleming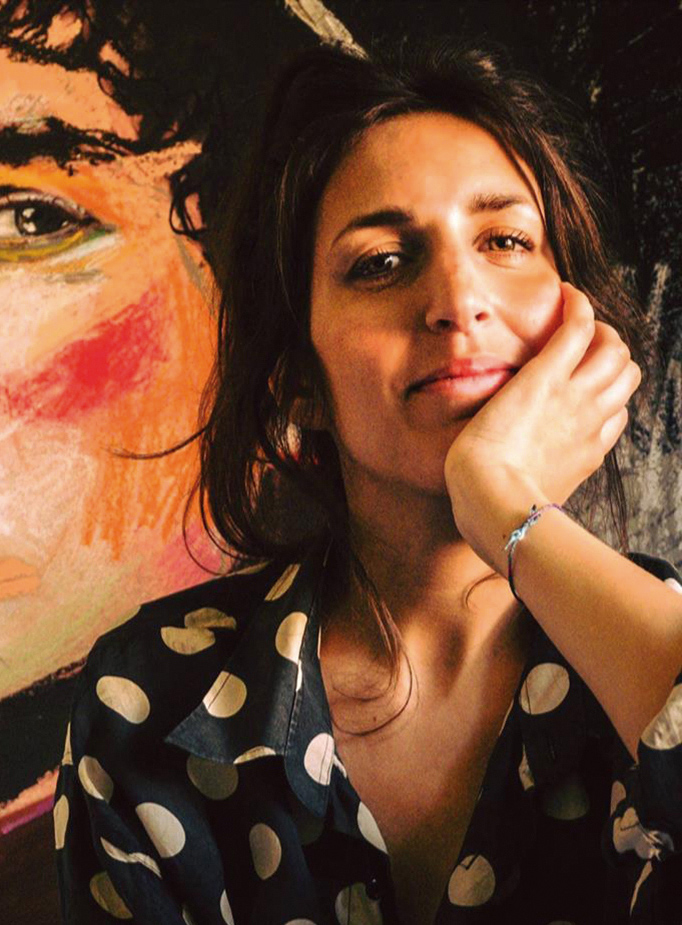 Margarida is a self-taught artist, with a degree in architecture and graphic design. She rises using several speeches, through constant experimentation with new techniques. The human geography of both paintings hovers mystery, in the map of defined emotions by quick strokes and hyper-realistic eyes. She unveils the humanity hidden by strokes because she defines everything we distort in our image, in our life, in our soul. The traces that build her profoundly expressionist faces are dense. They can avoid gender, artistic and beauty prejudices.
 What have you been doing?
Between the monotony of moving around different rooms of the house, domestic work and moments of relaxation, I have been painting, making the most of the time to rethink my work and experiment with new techniques. I managed to do some collaborations (even from a distance) which allowed me to learn and explore different materials, paint on wood, explore the three-dimensionality through sculpture and even study the use of the machine and technology in art. We indeed have more time, but it is also true that I have been working more and resting less. Boredom makes me work…
How has this new lockdown affected your creativity?
The first lockdown negatively affected my creativity. It was a time of absorbing a lot of information, my mind was focused on trying to untangle and adapting to the constant updates. I simply didn't have the will to paint, so much was the "agitation". It is a fact that creativity and inspiration drink from socialization, from the outside, from nature, cultural events, from the day to day movement and special experiences and even trivial ones. As time passed I was able to focus more, connect ideas, rebuild and enjoy myself in creating.
What projects were suspended because of quarantine?
A few exhibitions, one solo and several collective ones were already scheduled and postponed for when it will be possible to reestablish them. Some travels were cancelled, in which I had laid great expectations. On the ongoing projects, that are not suspended, it is necessary to manage well the work materials and deadlines, with the closing and opening of stores, it is important to prevent and, in the worst-case scenario, with their absence being able to create with whatever is available.
What do you have up your sleeve when everything goes "back to normal"?
If "normal" is a life without Covid or with the virus under control, first of all, I want to wander, travel, get revenge and be with friends! Enjoy the sun and do whatever I feel like it! I would like to do an open studio, I know that many people are curious to know my atelier and be able to see my work live. I would like to do a solo exhibition, with a proper vernissage included, and continue painting and to evolve my work.
Martinho Pita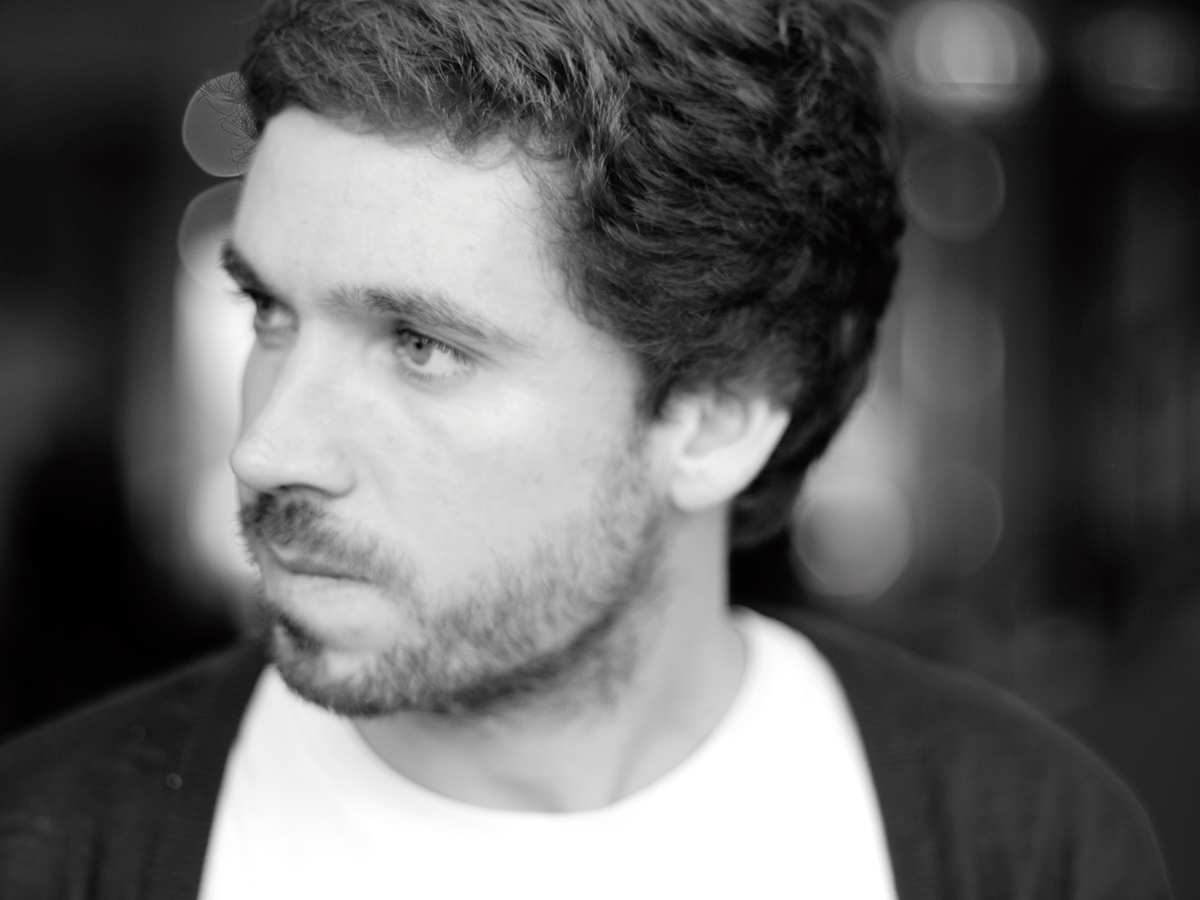 The degree in architecture and art by the Edinburgh College of Art is only one side – quite reductive – of his design work. With a decade abroad to perfect the métier, including a passage through India for a housing project in collaboration with UrbanNouveau in the Pune slums, Pita has dedicated the last few years of returning to the basics to product design, gathering from nature the inspiration and the raw material to give them a role and utility that brings home the slow living and the organic in more than one way. From Bichos (lamps made with the excess branches from the pruning of holm oaks) to Gotas e Pingos (lamps of manipulated glass that combine light and water), he always looks to partner with craftsmen and national manufacturers, allying his imagination to the manufacture of experts or the exploration by his own hands, highlighting the natural as the base of his artistic work. Here, creativity happens at the intersection between the countryside and the city.
What have you been doing?
Our time is sacred! It is essential to choose thoroughly to what and to whom we decide to give a piece of that time. I have taken this "retreat" to gain perspective and develop my critical and creative process. I'm also organizing content to finally update my website and communication strategy. Above all, I have juggling between work, my six-year-old son, home and the ongoing battle against the procrastination temptation.
How has this new lockdown affected your creativity?
It is said that creativity is the daughter of necessity. In times of crisis, creativity shows to be more fertile. My work is no exception and it was born precisely during the last big crisis in Portugal when so many people emigrated and I decided to come back. The crisis is part of the DNA of my work and my creative process. However, we are living in an unprecedented crisis, which not only affects our source of livelihood but also our movements and fields of action. I work mainly with nature and its slow stimuli, stable and profound, that is not fast like social media. I miss adventure and everything that inspires me.
What projects were suspended because of quarantine?
I had a few projects that were postponed or even cancelled since the beginning of the first lockdown as well as in the one we are living now; regardless, I had a lot of new work coming in and it ended up compensating.
What do you have up your sleeve when everything goes "back to normal"?
I have a few surprises cooking in the hoven, which I have been developing during the pandemic. Well kept secrets! In terms of strategy, I have been exploring mainly the national market and I feel its time to jump out of the fence. At the moment I'm exploring some contacts and I'm going to bet more on communication, new products and the importance of storytelling in my work and the work of all the manufacturers and craftsmen that work with me.
Mia Tomé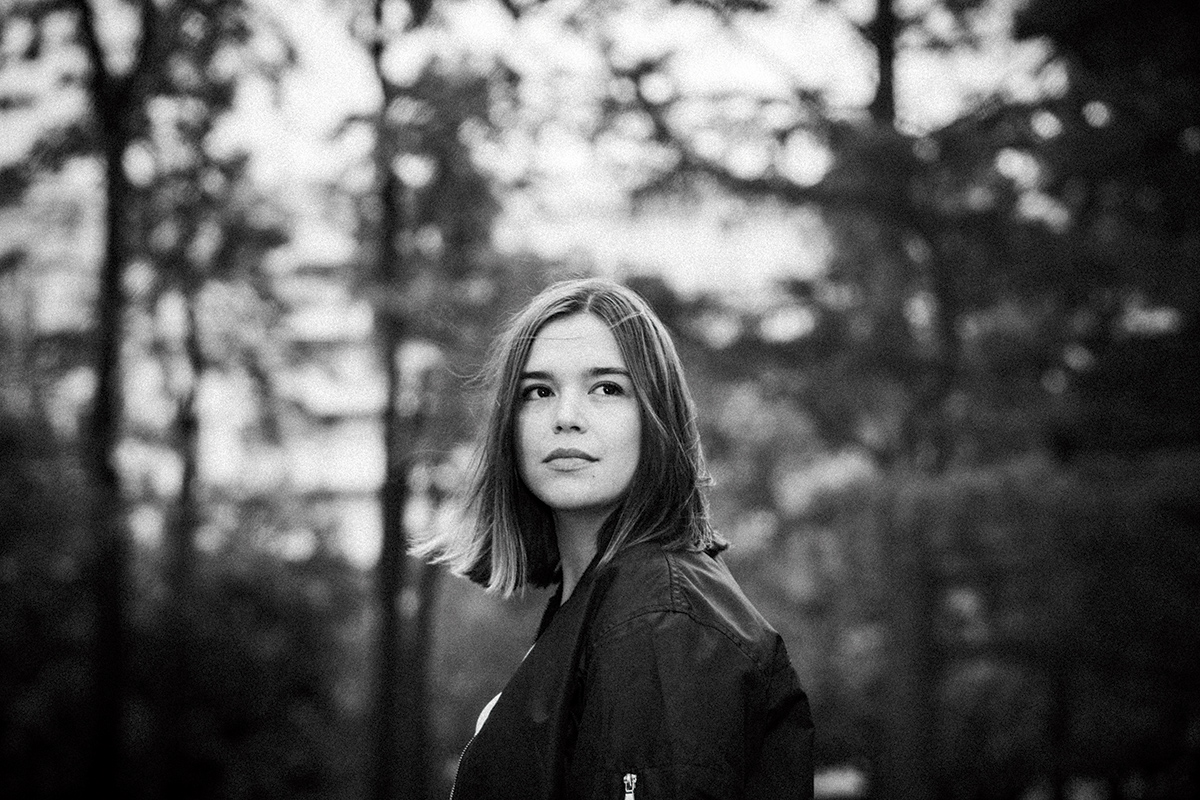 She is 26 years old and an actress. She attended The Lee Strasberg Theatre and Film Institute, in New York, with a scholarship from the Calouste Gulbenkian Foundation and has a degree in theatre from the ESTC. In cinema, she worked with directors such as Eugene Green, Manuel Mozos and Matilde Calado and, in theatre, with stage directors like João Pedro Mamede, Gonçalo Amorim and Jorge Silva Melo. She works regularly with voice, whether it is in advertising, dubbing or even in music. She's the author of the podcast Querem Drama?
What have you been doing?
Mostly preparing and organizing materials from projects that are on standby at the moment, but that still require attention, rereading, memorizing, so that everything can be ready when I can get back to work. I'm also preparing the new song of Mário George, with whom I collaborated in the summer in the Cântico do País Emerso. Mário lives in São Miguel, we are used to exchanging ideas at a distance. I have been enjoying listening to a lot of records and I'm finishing a book by José Augusto França about Chaplin. Music, cinema and literature have never been more important to keep us mentally healthy.
How has this new lockdown affected your creativity?
Motivation is fundamental for creativity and, in this second lockdown, I have been trying really hard to stay motivated. Although the majority of my work can not be done from home, there are other things that I have to prepare indoors, readings, research for projects, writing. But it seems that the body and mind are resisting, I get more blocks and feel that I take longer to react. I really crave being a spectator, going to the theatre, to concerts, all of that feeds me artistically. At the moment, at that level, I'm a hungry soul, I miss being in contact with the art of others. Some people romanticize mental health and its fragility as something propelling of great creations. Personally, and right now, I think anxiety and anguish can lead to creative inertia, a place I don't want to be in.
What projects were suspended because of quarantine?
The restitution of a show that is very special to me, Civilização, from a stage director that I admire so much, Lígia Soares. The premiere of Se eu morrer quero que saibas by Leonor Buescu was postponed and the recordings of my podcast.
What do you have up your sleeve when everything goes "back to normal"?
My podcast Querem Drama? is going to channel "Q" with a new format for TV. I also have a show in Rivoli, which I want to finally happen (it was postponed in the first lockdown of 2020), Maratona de Manifestos by Isabel Costa.  
Translated from the original article of Vogue Portugal's Creativity issue, published in March 2021.
Relacionados
---