There are special products that enter our routine never to leave. Even if others come along, newer, more sophisticated, these are our must-haves. No matter how much time passes.
There are special products that enter our routine never to leave. Even if others come along, newer, more sophisticated, these are our must-haves. No matter how much time passes.
Ana Murcho, Features Editor
Promises: an intense colour, a creamy and long lasting texture. Vogue's Word: finding the perfect red lipstick is more or less like finding the perfect pair of jeans - when we come across them, we don't want anything else. It was more or less like this, by trial and error, that I found the Holy Graal of MAC. If my memory doesn't fail me, I started wearing it in 2003, and since then we have never parted. Even though I have other red lipsticks (many, I have to admit), this is the only one that repeats itself, package after package. Russian Red is the materialization of a very feminine idea of power. It is bright, it is intense, it is powerful. Its matte effect is perfect: not many lipsticks with this finish can be as comfortable and last so long. Simply the best? Probably. Madonna wore it during the Blond Ambition Tour, in 1990, and in less than nothing this shade became viral, and to this day it is one of the most sold makeup products in the world. 
Lipstick in the shade Russian Red, € 21,95, MAC, in Lookfantastic.pt.
Sara Andrade, New Editorial Projects Director
Promises: almost everything in a little tube - colour, solar protection and daily hydration, in an anti pollution cream with antioxidants that help prevent early aging of the skin. Vogue's Word: for a few years this Mádara CC cream has been recurring in my add to cart. Even though it's a daily hydration agent, it's strengths are, to me, sun protection on a day to day that is mainly spent in an office and, above all, the subtle colouring, that helps even the skin tone. The texture is light, but I prefer to mix it with my moisturizer in the morning routine to help spread it - and massage - over the face. It's an add-on that replaces fond de teint and the extra step of solar protection in the morning.
Solar protecting CC cream with color and SPF15 in the tone medium-beige, € 27, Mádara, in Organii.com.
Rui Matos, Journalist
Promises: to moisturize and brighten the skin, creating, at the same time, a game of reflexes. Vogue's Word: there are days when not even the well known beauty sleep leaves our skin radiant - stress, many hours in front of screens, a less careful diet… the list is too long. In those days, only the magic of a highlighter lets us leave the house. Baume Essentiel is perfect to create bolder looks, but also to maintain a more natural appearance, bringing out the best of each face, because it is transparent and discreet in the perfect measure. A bit of extra sparkle never hurt anybody, however, if you don't want the "I just ran ten kilometers" look, here's a piece of advice: don't overdo it and apply it to your fingers first and only then on the skin, to control excess. I'm the kind of person who, after finding a product that works, will never let it go: it's been a good four years ever since it became my go to highlighter.
Multi Use luminosity stick Baume Essentiel, € 42, Chanel.
Mariana Silva, Journalist
Promises: to provide great pigmentation with maximum softness, the ability to smoke and resistance. Vogue's Word: I can't define this as my lucky product, because my skepticism won't allow me to. Even so, the Naked 2 palette by Urban Decay was the canvas of my eyes during my most important moments. It was the first makeup purchase I remember saving up for and, since then, I've never invested in another party eyeshadow palette. There are many shades, even though I always go back to my favourite (Suspect and Busted), which guarantee that the eye look I create each morning will be the same I see in the mirror when I get home at night. Even the brush that comes with the palette - which, to be honest, I usually set aside right away - surprised me with its high quality, becoming yet another of my essentials.
Eyeshadow palette Naked 2, € 48,95, Urban Decay, in Lookfantastic.pt.
Joana Rodrigues, Journalist
Promises: to lengthen, volumize and curve eyelashes, without smudging or drying. Vogue's Word: if I had to give up every single makeup item but could keep one product, this would absolutely be the chosen one. I think it's been six or seven years since I first started wearing this mascara, and there is no other that can convince me to switch. The applicator has the touch of a magic wand that suddenly gives a much more awake look, and the eyelashes look insanely long, with no lumps in the base or at the tips. When it comes to the formula, it does take a broken heart to test this product's durability. The promise is duly kept, so I see no end to this match in the near future. 
Mascara They're Real, € 29,90, Benefit Cosmetics, in Sephora.pt.
Originally published in the Time issue of Vogue Portugal, from December/January 2021/2022. Full credits and story on the print version.
Relacionados
---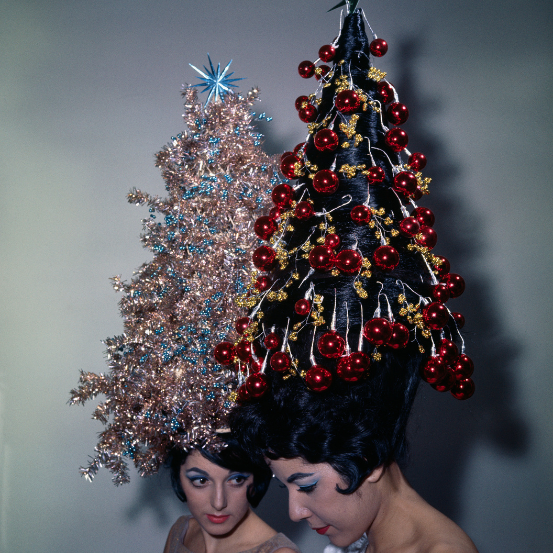 Sugestões de looks para este Natal
06 Dec 2023