… and a great deal of them are on the wonderful world of fashion.
… and a great deal of them are on the wonderful world of fashion.
DNA reflections
The news carrying the word of a new appointment in the creative direction for a big Fashion house is always received with mixed emotions: on one hand, it's a positive thing that creativity and fresh blood (even when not-so-fresh) is put at the service of the industry and epitome of luxury; on the other way, a question arises: "Is the designer X capable of honoring brand Y's DNA?" Since the answer isn't always yes. But sometimes, it is. When Balenciaga announced Alexander Wang (California, USA, 1983) as the new creative director for the maison, in 2012, critics refrained themselves. It wasn't an obvious call. However, good professionals should remain professional, and Wang made a point to underline that position: "I want to bring comfort and simplicity to the DNA of this house", he affirmed. Plus, on his second collection for the brand – the proposal for spring/ summer 2014 – he made sure he demonstrated him passionately: to be clear, he placed mirrors that showcased the models, and the pieces they were bringing to the runway, from several different angles. Let it be known that mirrors are an integrant part, in a way, of Balenciaga's genetic code, a characteristic that can be seen in some of the brand's stores around the globe.

Balenciaga Spring/Summer 2014, imagined by Alexander Wang.
Mirror-Love
She was, and with 73 years-old she still is, a worshiped style icon. Him, an inveterate conquer and also one of the most sought-after men of all time. Together, they formed one of the biggest power couples in history, and still manage to give us Je T'aime… Moi Non Plus – the track that blew up and, simultaneously, got censored by the Vatican and a few countries, for being considered too explicit (moaning included). The success of the Frenchman and Englishwoman as-French-as-can-be wasn't written, however, based solely on sensual tunes of unquestionable quality. Jane Birkin (London, United Kingdom, 1946) and Serge Gainsbourg (1928-1991) built far more than an artistically romantic double. She, despite being British, gave a voice and an image to Parisian style. She was indeed the model that instituted items such as the straw basket and turned basic pieces, such as the white tee, into the epitome of cool. The sheer fact that her name was used for the it-bag of the French maison Hermès is not at all a coincidence. In Monsieur Gainsbourg Revisited (2006), Serge's tribute album with versions of his most well-known themes, the couple is portrayed on the cover wearing turtlenecks, armor style, covered in tiny little mirrors, with the (obvious) signature of Paco Rabanne. Nous l'aimons.
Cover of the album Monsieur Gainsbourg Revisited (2006), with Jane Birkin and Serge Gainsbourg dressed by Paco Rabanne.
They're mirrors, ladies
"Why have there been no great women artists?" was the new We Should All Be Feminists, by Maria Grazia Chiuri (Rome, Italy, 1964). This time, the message came through the proposals for spring/ summer 2018 at Dior, where the designer holds creative direction since 2016. "Nowadays, fashion brands need to represent more than just a good product, and Chiuri is determined to transmit a positive message with Christian Dior, one which the designer actually believes in", as Vogue US affirmed. And, on that season, the constructive note that women also had a right to be in art, was passed on not only through printed quotes on pieces – it wasn't by chance that Sasha Pivovarova, once an art student, opened the show with a striped long-sleeved top, mariniere style, and a printed message reading Why have there been no great women artists? -, but also, through the general ambiance that played out. The room was filled with small glass mirrors that resembled a silver-mirrored version of Gaudí – the same small mirrors that were also seen in some of the looks. This anthem to mirrors had already been seen in the past, when Raf Simons (Pelt, Belgium, 1968), was at the forefront of the maison. On his show for winter 2013, the designer filled the room with silver spheres that alluded to the iconic Silver Clouds (1966) by the artist Andy Warhol. 
Detail of the set where the presentation for the spring/summer 2018 Dior collection took place.

Atmosphere of the fall/winter 2013 Dior show. 
Mirrors are forever (also, they're a girl's best friend)
The event Beers & Versace Diamonds are Forever, a benefit party for charity organized in June 1999 by the Italian house Versace together with the diamond company De Beer, set the coordinates and their guests followed immaculately. Either way, let's see: On a scale from Moss to Campbell, how cool can an image that captures the two top models be – even more so given how they were dressed to shine like that? It's a hard score to give out since, to be honest, it's not in every life, not even in every existence, and even less so in every planet, that you get to see such a pair of best friends like Kate Moss (Croydon, United Kingdom, 1976) meets Naomi Campbell (London, United Kingdom, 1970). The thing is, if Miss Moss alone was already a troublemaker, we can only imagine what Miss Moss plus the hurricane that is Naomi would be – it is thus unfruitful to try and guess the impact caused by a pairing of such dimension. Back in 1999, we're faced with two models, and some close friends, splendidly squeezed into ultra-shining dresses, thanks to the several tiny mirrors that composed them, by Versace, that still write in between the lines (were there any doubts left…), "dressed to win". It's commonly said that diamonds are forever. But aren't also timeless the reflections of moments like these in the history of Fashion? Sure they are.

Naomi Campbell and Kate Moss at the Beers & Versace Diamonds Are Forever party, in 1999.
These boots were made for shining
Paris, March 2017. It was the second time Anthony Vaccarello (Brussels, Belgium, 1982) presented a collection as Saint Laurent's creative director. Expectations were sky-high. And what went down at the headquarters of the historic French maison did not disappoint. Because all that was seen was (indeed) Saint Laurent: "I always connect Saint Laurent to parties, to the world of the night", Vaccarello explained in a conversation with Vogue US. And thankfully so. The maison's DNA begs for a certain eighties vibe that breathes disco, decadence, and rock and roll. What was portrayed were, so to speak, innumerous faithful references to that specific decade: from voluminous and opulent shoulders to mini dresses in materials ranging from leather, vinyl or velvet, without forgetting about the overwhelming shine, the thousand and one transparencies, the successive asymmetric cuts, and, to top it all off, the marvelous high boots capable of elevating sexiness to its maximum exponent. Amongst these, an ultra-shining pair appeared, covered in minuscule mirrors, an absolutely stunning piece, worn either over jeans or under maxi dresses with slits that risked it all the way up to the hip bone. A pair of boots that was definitely made for shining.

The unforgettable boots coated in mirrors, created by Anthony Vaccarello for fall/winter 2017 of Saint Laurent.
Stairway to Heaven
We will always have Paris. And in Paris, we'll always have 31 Rue Cambon, which is the same as saying the Chanel flagship. It was on that Parisian building, located a few minutes away from Place Vendôme or the Ritz Hotel (where the designer would come to live later on), that Gabrielle Chanel (1883 – 1971), the designer and founder of the homonymous maison, created her not-so-little empire. The biggest symbol of that incredibly well-known apartment? The Art Deco staircase, covered in mirrors from top to bottom, intact since 1920, the date when it was built. "Who would ever want a staircase with mirrors from top to bottom? Someone who's certainly vain!", one might think. It so happens that it was precisely the opposite. Shy by nature, the mademoiselle idealized that staircase so that she could watch her shows incognito. That way, sat on the fifth step – her lucky number – the revolutionary designer could not only watch the models walking down the staircases wearing her creations but also, and above all, witness the reactions of the audience. All this without having to show herself – as the great artist she was, she preferred anonymity to exposure. A distinguishable staircase that would lead even the commonest of mortals – in this case, Chanel's potential clients – to the paradise Gabrielle had built amid her atelier, upstairs that iconic building in the city of light.

Coco Chanel photographed in the impressive stairway of her apartment in Rue Cambon.
Journey to the lost paradise
Critics considered it one of the best shows of the autumn/ winter 2016 season, with a collection filled with "pieces which were easy to love and wear". Nicolas Ghesquière (Comines, France, 1971), at the forefront of the French house Louis Vuitton since 2013, idealized a submerged world, some sort of lost Atlantis: "We had an idea of this journey, of a woman who could be a digital heroine, like Tomb Raider, discovering an archeological site", he commented. Just like that, in collaboration with the French artist Justin Morin, three geometric structures were built behind the Foundation Louis Vuitton, along with the projection of a set that counted with 57 columns, in total, which demanded the placement of 200 thousand bits of broken and hand-restored glass. When it came to the collection itself, the French designer took a bet on geometrical elements and asymmetries, having also explored sports-inspired looks. The iconic scarves with prints of chains and buckles were likewise retrieved and appeared alongside fluid dresses, perfectly balanced by sturdier shoes. An ideal choice, we would say, for every digital heroine that wished to venture the waters of Ghesquière's imaginary world.

The environment on the fall/winter 2016 Louis Vuitton show.
Mirroring tomorrow
If the future was a designer and they had a name, that would most likely be Gareth Pugh (Sunderland, United Kingdom, 1981), aka, the most futuristic designer of the industry. In his designs, season after season, one can often find rigorous allusions to all vanguardist elements, to everything that might indicate tomorrow's future tense. The suggestions singed by Pugh for spring/ summer 2011, even though they weren't exceptions when it came to the futuristic aura that distinguishes the designer, they were considered, by the majority of the specialized press, softer than usual. However, many different elements presented were enough to keep the avant-garde spirit that characterized the British designer's stamp: cyborg galactic warriors were seen, sci-fi elements, metal armors mixed with a strong Japanese influence, put into evidence through the use of kimonos, but also in the hair and makeup choices. Beyond the usual tones of black, grey, and white – those who better define the Pugh label – the pieces built from aluminum printed nylon were greatly responsible for adding an extraordinary mirroring effect. Furthermore, since we're talking of Gareth Pugh, it's important to note these were not mere pieces of glass, but mirrors that reflected a shinier future.


Two of the looks of the spring/summer 2011 Gareth Pugh collection.
The future is Balmain
Indeed, we've already stated wound here that the future tense belongs to Gareth Pugh. It so happens that, out of a sudden, we're faced with Balmain's spring/ summer 2019 show, and we're back to the future. Let's call it a more elegant future, more polished, and less vanguardist. However, it is certainly sophisticated and, in current lingo, very "out there". Olivier Rousteing (Bordeaux, France, 1985), the designer leading the French maison since 2012, defined that collection as a sort of "Paris meets Egypt" concept, which he justified with the following: "Every morning I wake up and see the Louxor Obelisk, and the Louvre Pyramids… I believe it's very important to mention that great part of the beauty of Paris is based on its history and its history is not limited just by what we see as French". The show was opened by the British model Cara Delevingne, dressed in a shining metal corset, followed by a legion of women powerfully covered by structured pieces, where materials such as little piece of shattered glass were showcased. We could spot mirrors on dresses, jeans and tops, but also in sandals, bags and belts. All this for a future that, despite precursor, was nonetheless faithful to the übersexy appeal that has always been (and forever will be) at the origins of this house.


Two of the proposals of Olivier Rousteing for spring/summer 2019.
Divine Cathedral
Times weren't easy for the British label Mulberry, the years that preceded the entry of the Spanish creator based in Paris, Johnny Coca. Consequently, his debut as creative director of the house was creating high expectations. The moment had come in the autumn/ winter collection of 2016, at London Fashion Week, and Coca had been faced with the task of renovating a brand that was dear to the public, extremely sensible and deeply established – a rich heritage, a refined rebellion and so British that its understanding might have often been reachable to a few. However, as an ex-designer for Celine (he was the creator of the iconic Trapeze bag), and ex-Louis Vuitton, Coca proved to be the man for the job, where he kept his position until March of 2020. Just like that, during his first show for Mulberry, the designer when over the archetypes of English style, exploring thus way, a polished form of punk, to which he added a few gothic touches. And if that collection fulfilled all its goals, with Johnny Coca home-running his first test trial as creative director for the house, the scenery of the show was what revealed to be divine. The Guildhall building, in London, was turned into an impressive cathedral, with intricately colored glasses, which allowed themselves to be reflected on the many mirrors that covered the space. We could say Johnny Coca embraced his Mulberry debut in a… religious manner.

Inside of the majestic Guildhall building, in London, where the premiere of Johnny Coca as the creative director of Mulberry occurred in 2016.
Black Mirror
At the end of September 2018, the online issue of Dazed magazine said: "The Celine girl is going to a party", which is pretty much like saying, the Celine girl, the old woman of the world imagined by Phoebe Philo, took off her conceptual clothing and put on the sequins, her skinnies, her leather jacket – meaning, covered herself with everything that turned her into a convicted rebel, and not a Celine woman. Confused? With the arrival of Hedi Slimane (Paris, France, 1968), fashion's enfant terrible, to the French maison founded by Céline Vipiana in 1945, the brand has not only lost its punctuation but has also left behind the polished aesthetic centered on the feminine perspective that, during Philo's reign, seduced thousands of fans throughout the globe. "It was disorienting", Vanessa Friedman observed to The New York Times. And, in a way, it was. Because given Slimane's path, it was to be expected that his goal would be precisely that: to shock, to create impact, to disorient. Less than that would be… nothing. And what better than a room covered in mirrors to tear the "less is more" logic completely apart? The set for the spring/ summer 2019 show presented by the designer was built in front of the imponent Saint-Louis Invalides cathedral, in the Rive Gauche, on purpose, and right there, a huge black box arose, completely mirrored, catching the light and shadows that outlined the contours of the young (female) models, the new Celine woman: ridiculously young, exaggeratedly thin, and with that blasé look typical of those who just left a huge party… and are on their way to another.
One of the key looks of the ss19 Celine collection.

The scenery of the spring/summer 2019 Celine show, the first of Hedi Slimane in charge of the brand.
Shine bright like… Lady Gaga
The chameleon-like style of Lady Gaga spares all introductions, as well as her thousands of outings (and apparitions) – we've seen her dressed in all shapes forms, and "boredom" is a word that clearly does not belong in the singer's vocabulary. Furthermore, we should add, her taste is not what it used to be, which is like saying, it evolved into something better. Way better, we would risk saying. Though without ever losing the irreverent spirit that the artist imprints on her legacy. In this ode we make to mirrors, we recall the wide shoulders bodysuit, covered in the smallest bits of mirror and of very futuristic style, which the pop star wore to one of her concerts during the tour Monster Ball, and that was held at the Nokia Theatre, in Los Angeles, in 2009. Queen of the avant-garde, fashion icon, style legend, and, according to the American edition of Harper's Bazaar, owner of "unbeatable style", the visuals of galactic inspiration are a constant in the Gaga universe. Let's recall how, in June of that year, the signer had already graced the Glastonbury Festival with the same exact look, a real-life disco ball that set the Internet on fire. And how could it not? In today's day and age, where the word "boredom" is too soft to describe it, all is set for us to claim, loud and clear: bring Lady Gaga ('s style) back.
Lady Gaga in a bodysuit created by Zaldy for Haus of Gaga.
Translated from the original article from Vogue Portugal's Mirror issue, published in January 2021.
Most popular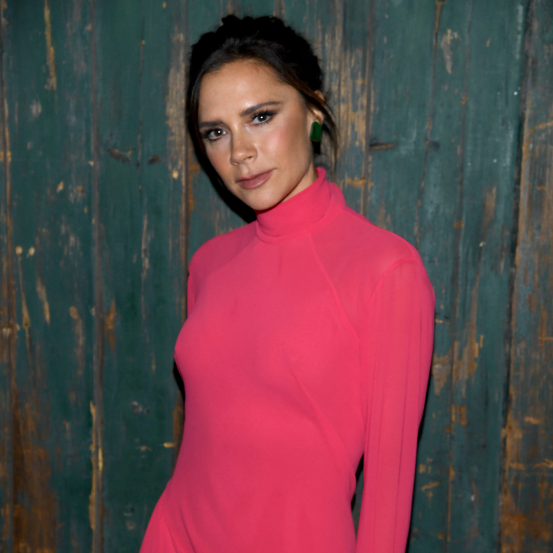 As cinco regras de ouro para uma pele perfeita, de acordo com a facialista de Victoria Beckham
14 Nov 2023
Relacionados
---