What's on your New Beginnings issue, page after page.
What's on your New Beginnings issue, page after page.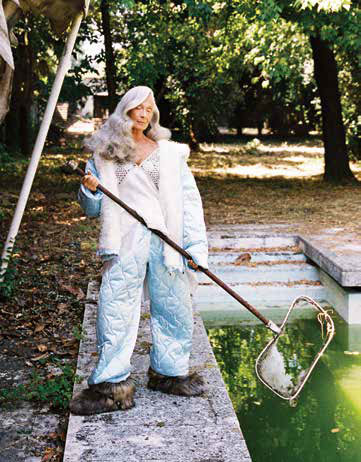 Photography by Branislav Simoncik.
14 Editor's Letter18 Masthead20 Backstage145 E-shop336 To be continued
IN VOGUE
24 Trends. The beginning of a new season is the perfect excuse to check our wardobe for autumn/winter.34 Shopping. We won't kick off anything without the right accessories.38 Bubble Wrap. To start the day off without leaving the duvet cover is no longer a dream with these quilted coats.40 Botanical Garden. It was about time these jewels and watches grew roots and bloom.44 The Resurrection. How do one restart a Fashion house after its iconic founder dies? With very high standards. By Pureza Fleming.54 Through the looking glass. The pandemic brought new beginnings to Fashion - some, already here, others yet to arrive – in this evolution of the post-COVID industry. By Carolina Queiros.58 3, 2, 1, born again. Is what your clothes will tell you if you choose to shop like this.64 The Game of 15. We're not at all puzzled about how much we love these shoes and bags. 76 Square root. To start a project from scratch has noth high levels of enthusiasm asof challenge. And these designers and brands can say it so.82 A living coat. This coat makes sure you do your own photosynthesis. A new beginning for the world?88 Neverending story. There is starting over and there's starting over with a bang. Sanjo knows a thing or two about the second option.
LIFESTYLE
92 Agenda. What to see, what to read, what to do.100 St(art). These emerging artists said yes to sharing their vision - and art - on what is this new begnnings thing.106 And, once again, we are reborn. To not speak of the Renaissance in a new beginnings' themed issue would be like going to Rome and not see the ceiling of the Sistine Chapel by Michelangelo.110 The world is my canvas. Shira Barzilay, aka Koketit, sees a blank page all around her.126 The plasticity of being. We are all different, we are all special. Photography by Zuzu Valla. Styling by Daria Chez and Yal Keenan.134 New season. New start. New home. Rentrée means going back home - with a fresh feeling. We have the decor trends for it.140 Stewing life, a motivational tale. Olive oil, onion and garlic to taste, let it golden and then just add this text. By Nuno Miguel Dias.
BEAUTY
148 For a fresh start… in Beauty, these are the trends and products.154 From scratch. A bare skin is your blank canvas every day. Photography by Kourosh Sotoodeh. Makeup by Deanna Melluso. 162 Brave New World. Have you reached nirvana today? Here it is, your moment of Zen. By Pureza Fleming.166 Dawn. The sunrise shades make their way into your makeup palette. Photography by Simon Thiselton. Styling by Oliver Volquardsen. Hair by Ryo Narushima. Makeup by Porsche Poon.176 Out with the old, in with the new. What does autumn/winter smells like? Brand new. Illustration by Nuno da Costa. Hair by Neil Moodie.178 Test Drive. It's the first step for these products we debuted in our Beauty routine.180 For your hands, with love. We feel the new beginnings at our fingertips – and do it with the right nailpolish. Luckily, Hermès has a new collection to make touch base with restarting.184Like a virgin. Is it possible to regain your virginity with hymenoplasty? And does it make sense?188 The skin I inhabit. To start again in a different body. At the right body. By Pureza Fleming.
VOGUE
194 Equilibrium. Compromising is a powerful tool on a sustainable restart. Photography by Noémi Ottilia Szabo. Styling by Arianna Pianca.216 All possible lives. The ones we gain whenever we started again. By Diego Armés.222 It's never too late for… doing whatever.236 Tree of my root. An account from Catarina Mira-Rose on pregnancy andgeneration of life, the ultimate beginning of "new beginnings". By Catarina Mira-Rose. Photography by Simon Schmidt. Styling by Aimée Croysdill.248 A matter of perspective. Seeing differently, in a new light, in a distinct angle, call it whatever you want: new beginnings are also epiphanies. Photography by Gregoire Alexandre. Styling by Joan Dacheville.260 What will become of us? The roaring 20's. Of the 21st century. By Diego Armés.264 Dramatic changes. Don't be afraid of change in your wardrobe. Photography by Mario Kroes. Styling by Sina Braetz.276 Starting point. To discover novelties in clothing, be it in new textures or in the way we wear them, it's also a way of starting over. Style-wise, at least. Creative direction andstyling by Alexandre Dornellas. Photography by Mariana Maltoni.290 The four elements. And the fifth is a step towards a new way of life. And of dressing. Photography by Camilla Armbrust. Styling by Niki Pauls.300 Once again upon a time. These children's accounts about escaping unhappy endings in order to write a new overcoming chapter are inspirational. As is the helping handof Maria Cristina Foundation.306 Infrastructure. The important thing is to start off with solid foundations. Even in your wardrobe. Photography by Jean-Baptiste Courtier. Styling by Raphaël Nicolas de Castro.322 Reset. So as to make a better Forward. Photography by David Gómez Maestre. Styling by Javier de Pardo.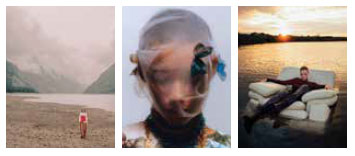 LEFT: Top, shirt and shoes, all by Christian Dior. Pants, Dries van Noten. Photography by Noémi Ottilia Szabo. Styling by Arianna Pianca. Model: Leanne de Haan @ Fabbrica Milano. CENTER: Dress, Kenzo. Headpiece, Kerry Parker. Chokers and necklaces, all by Sedona. Belt (used as a necklace), Christian Dior. Photography by Mario Kroes. Styling by Sina Braetz. Model: Dilone @ CAA. RIGHT: Sweater and skirt, both Stella McCartney. Boots, The Row. Photography by David Gómez Maestre. Styling by Javier de Pardo. Model: Sara Eirud @ MIKAs Stockholm.
Relacionados
---