Your to-do list from the underground issue.
Under the city
Of all the definitions and references this word may have, the underground reminds us, almost automatically, to the railroad system that works under the ground - at least that's what the dictionary says.
The english term defines precisely where this train circulates and it's exactly as underground that we know the London underground. But the word isn't used in all English language countries, actually, in the US, the railroad system is called subway (don't mistake it for the sandwich chain restaurant). Besides having this name that is especially its own, the London underground is a pop culture icon and a mark in history, because it was the first underground train in the world, opened in 1863. From the logo we can recognize miles away and bring home in souvenirs to the unmistakable Mind The Gap warning, the English capital's metropolitan is filled with symbols that build an artistic and cultural panorama of city life. Anyone has seen, at least once, the red circle with a blue horizontal line, where you can read Underground. Actually, this is such an iconic sign that it can be found in several objects at souvenir stores, from t-shirts to keychains. The ones who have been to an English metro station know, for sure, the warning you hear at every single stop: Mind The Gap. A kind of "attention to the space between the wharf and the train", but a much more memorable version of the Lisbon phrase. It was in 1968 that the automatic warning was installed, recorded in Oswald Laurence's voice, a theater actor. After his death, in 2006, Laurence's widow visited the Embankment station only to hear her husband's voice. Years later, in 2012, the recording was replaced. Margaret's story touched the subway workers, who, at her request, went back to playing the original sound in the station she visits regularly, and this is the only one in all the network that still has Oswald Laurence's voice. More than a metro symbol, Mind The Gap is a London trademark, an expression that is slowly taking over our lives with reference after reference. There's a non-governmental organization that defends civil society rights with the same name, as well as an art company for disabled people. The Portuguese store Mind The Trash got its name by inspiration in the underground warning, after the founder lived in London.
When it comes to pop culture, the underground can be found in movies, shows and even in music as a reference to the British city. Maybe the most memorable is the one in V for Vendetta (2006), in which the metro is used as a symbol of the revolution and a vehicle for a coup d'etat against an oppressive regime. On several other occasions, the underground has served as a set for James Bond movies, like in Skyfall (2012) and in Die Another Day (2002). The subway has also been a kind of protagonist in productions like Tube Tales (1999), a collection of nine shorts based on real stories lived by passengers of the railroad system. In the end of all this, what we want is to go to London only to visit at least one of the 270 stations that make up this pinnacle of pop culture. Actually, Transport for London, which is responsible for the subway, makes sure every one of the stops is duly cared for and decorated with commissioned works of art, like detailed maps and poems on tiles. But the English capital isn't the only one with an underground worth visiting - all around the world there are buildings that look more like palaces and galleries, unlike just a stop in the everyday life of those who live there. In Paris, the Arts et Métiers station, in the third arrondissement, is worth being stood out: in 1994, it was redesigned by belgian cartoonist François Schuiten. Now, the walls are covered in copper leaves and from the ceiling enormous gears peek, in a steampunk style inspired by Jules Vernes' fantasies. A bit further to the west, the Toledo station in Naple takes underground much beyond and becomes an underwater scenery, where the walls and ceilings are covered in bright blue tiles, as if it was submerged. The architect's intention, Oscar Tusquets Blanca, was to give the sensation of, as one ascends, to be emerging from a building that, conveniently enough, is below sea level. In Germany, the epitome of underground Bauhaus architecture is in Westfriedhof, in Munich. Inside the station, the stone walls were left uncovered and are illuminated by bright purple lights and massive lamps, in the simple geometric style of the German current. Further north, in the capital of Sweden, Stockholm, some of the most fantastic buildings of the underground world can be found. The Rådhuset reminds of an almost apocalyptic sci-fi scenery, in which very little sculpted stone walls are combined with red lighting and unbelievably large columns. In Moscow, It's hard to pick one mandatory stop, because they all have their own special charm that was left from the USSR heritage. At Novoslobodskaya, the huge corridor is surrounded by stained glass windows, each more colorful than the latter, with themes and symbols of Russian history. Finally, and on the other side of the Atlantic, it would be impossible not to talk about Grand Central Terminal, in New York, because, more than a point of transportation, it's a place where you can eat, go shopping and even play tennis. The grand building is illuminated by intricate chandeliers that weigh more than a ton each. Now, we buy a ticket, with no expected wait time.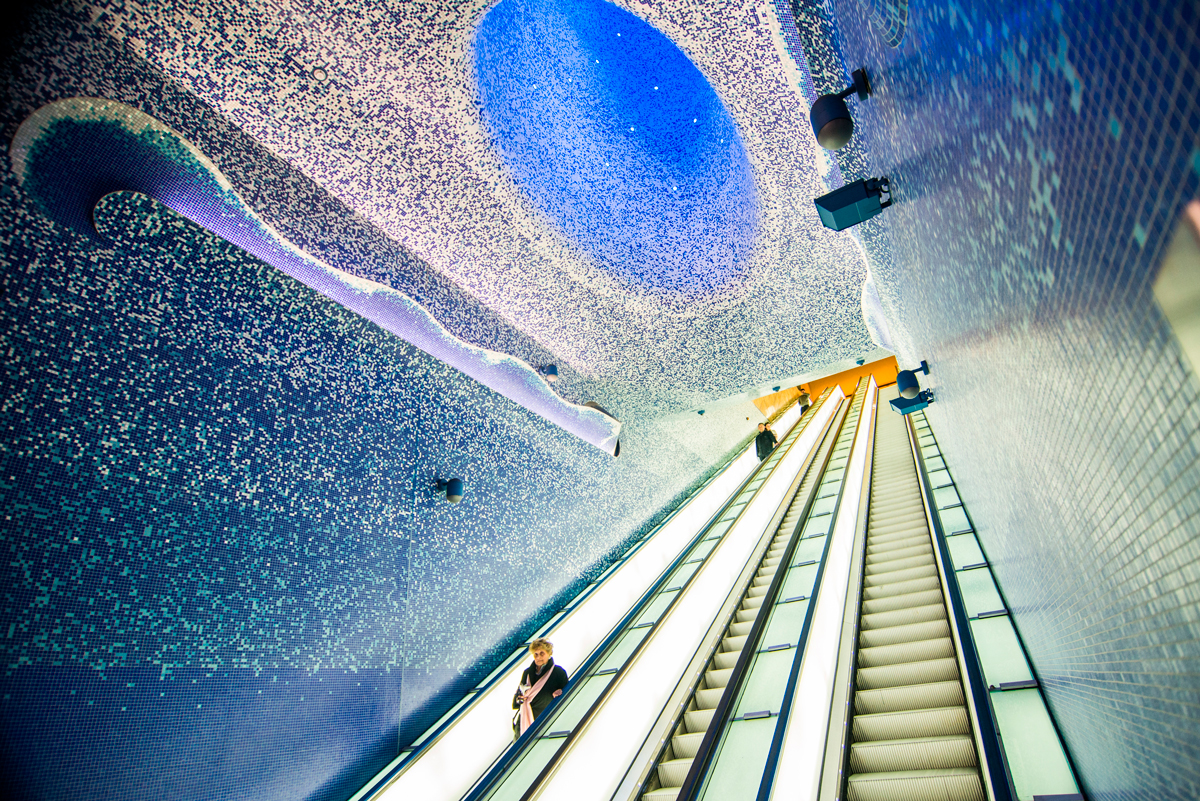 Estação de metro de Toledo, em Nápoles, Itália, D.R.
Estação de metro de Toledo, em Nápoles, Itália, D.R.
Under the radar
Culture exists in a constant transformation, it's possible to model and mold according to collective or individual wills. The capacity of influencing culture isn't exclusive to one group of people or entities, and there are always creative minds who take risks in the influencing field with their own visions and ideas. If when they start they're independent, underground, when do they become culture? These projects are paving the way.
Headquartered in Porto, Mera is a record label that connects electronic music to visual arts. How? That will be an answer that can only be experienced in the terms proposed by Mera. The contemporary creation is born of an idea contamination between artistic fields, and the connection between visual and sound experiences will be natural in a fertile space. More information: www.meralabel.bandcamp.com
Dolce Stil Criollo, an art magazine? A magazine about existence itself? Is existence an artistic performance just by itself? A publication that presents questions instead of answers, that removes itself from editorial norms through the design and content. It's an experience proposed by editors and held up by the same; the discomfort in the understanding is a format you must get used to. More information: www.dolcestilcriollo.com
Can a promotion platform be underground? For underground - not by choice - projects, the transformation process or just reaching a larger audience can be an almost impossible task. Cosmic Burger is a cultural association that devotes to creating presentation spaces for these projects - and it has created Fenda and Entre Cidades festivals -, that, beyond having publicized artists, also promote the decentralization of cultural programs, that tends to close up in Lisboa and Porto. More information: www.cosmicburger.org/projects
Lichtblick Cinema is one of the oldest cinemas in Berlin, having only 32 seats. Art films, independent movies, in retrospective or modern, the program is wide and has a usual clientele, in an atmosphere of a historical cinema that can make anyone fall in love. Assuming as more than just a cinema, this "fertile ground" from which so many other projects are born that make an impact in the German capital is a go-to space in Berlin.
Chili Com Carne (CCC) is a cultural association created in 1995 with the goal of promoting and developing several artistic initiatives. It's been making an impact with the role it has taken on in the editorial field, but always keeping a focus on work and the artist's creative vision. The artistic expression and author autonomy are the basis of this project that is born of a reaction to a depreciation of the artist, to value the product as a comerciable object - a countercurrent needs a project that goes against the system, and Chili Com Carne has been making a statement through cultural production and programming. More information: www.chilicomcarne.com
Rampa Associação Cultural is a space for exhibitions and artistic programs in Porto. The project is inspired by the Invicta city and its history, as well as a provocative creation attitude that enables an aesthetic that is very specific to the city. A (literally) raw space, underground, that wants to create bridges between local and international makers and promote, as well as unite Porto with the contemporary artistic scene. More information: www.rampa.pt/about/project
Under the surface
For the ones who like to know more than just about the surface of the world, here are the visits to some of the most incredible - literally - underground sites.
We start in New York, at the City Hall Station - an abandoned subway station. One of the original 28 stations, opened in 1904, but with the population growth it was necessary to widen the network, and this station was shut down since it was impossible to include it in the new plan. Nowadays, you can tour its revivalist tunnels, but look out for what you may find. If, on the other hand, you'd prefer to get to know an underground that was once inhabited, go to Turkey. In the Derinkuyu region, in Cappadocia, you can visit one of the many Turkish underground cities. Over 85 meters deep, Derinkuyu had the capacity to host about 20 thousand people in 20 different levels, and it was built between 4000 b.C. and 9000 b.C. - these dates cause disagreement amongst historians. An underground city seems like a concept out of a parallel reality, but even more movie worthy is the Cave of the Crystals, which looks very much like Superman's Fortress of Solitude. To access it, you must go to Mexico, to the state of Chihuahua, where you'll find some of the world's largest natural crystals, all crammed in this warm moist space. We advise you to visit this unique sight while you still can, since the Cave of the Crystals may be closed to allow the crystals to continue to grow with no external interference. Still in Mexico, you can visit the Aktun Chen caves at the National Park - which are featured in National Geographic's Top 10 underground walks. Located in Riviera Maya, 20 kilometers from Tulum, the park is over 400 hectares and hides underneath the surface entire constructions of stalactites and stalagmites. There is also an underground lake where you can go for a swim. If you prefer something warmer, we got some of those as well. You can plan a trip to a volcano that nature has already deactivated, allowing you to visit the inside of the Earth. The dormant Thrihnukagigur volcano is in Iceland and is 213 meters deep, filled with colors and marks made by the lava it once held, like naturally made psychedelic designs. But the underground isn't just for nature. In Krakow, Poland, you can visit one of the world's oldest saline, a human construction 327 meters deep, that extends for 287 kilometers in tunnels, classified as UNESCO patrimony. Wieliczka saline offers historical tours and also has a chapel, where you can even hold your wedding ceremony. Wouldn't you like to get married underground? Maybe because you link the underground to the occult? The gruesome? Even to death? Paris catacombs are precisely all that, a surprising discovery of the foundations underneath the City of Light, built over the bones of his ancestors. Walls of human skulls may not be for everybody, only the bravest will visit what became the city's cemetery in a time of overcrowding of regular cemeteries. If the underworld is of your liking, take a trip to Les Catacombes. And did you know that Lisbon also has tunnels you can visit? The Roman Galleries are the inside of the capital and they were built between 1 a.C. and 1 a.C., during the occupation by the Roman Empire. To visit, you have to make an early reservation: the Roman Galleries only open twice a year. The underworld is attracted by the underground and the Tunnels of Moose Jaw, in Canada, were used to smuggle alcoholic drinks during the Prohibition in the USA. These tunnels were created during a period of Chinese emigration to Canada, during which some measures would be applying excessive taxes on immigrants. Whole families were forced to come up with a solution after not being able to get a place to stay, and this was when the tunnels were built, and later used for smuggling. Are you ready for a journey to the center of the Earth?
Underground: The Records
There's no riddle as efficient as time. When it comes to underground music, it's curious to see how when they are quality records, they end up coming to the surface. And, even when they're not, sometimes they float too.
Before We speak of underground albums, one point should be made: if, above ground, the amount of good records is virtually endless, under the ground the wideness of choice, even if shorter, could never be fit into one page. One the rules of the game have been accepted, options were made and, from those, came the choice that begins, precisely and unsurprisingly, with The Velvet Underground and Nico (1967, Verve Records), by Velvet Underground, an astonishing record nowadays, a symbol of an era in New York and of a counterculture that would curiously come to merge with Pop Art - just take a look at the cover of the album, designed by Andy Warhol. Speaking of Velvet Underground makes it necessary to mention Lou Reed, who would release his third album in 1973, Berlin (RCA), a glum musical reflection that tells the story of a couple and their drug issues. Rolling Stone described it, at the time, as "a disaster", but now it's cult worthy. Talking about underground is talking about punk and talking about punk is talking about The Clash: London Calling (CBS Records, 1979). Even though it's the british band's third studio album, London Calling was the first to be released in the United States, in 1980 - and that's when everything changed. Underground, Great Britain and records that changed the course of music: here's a triple combination capable of creating, for example, Unknown Pleasures (Factory Records, 1979), a pinnacle of post punk and the album with of the most iconic covers ever. From the 70s until the late 90s, from the game-changers to the eternally underground, we reach the magnificent In the Aeroplane Over the Sea (Merge, 1998), masterpiece of the anti-mainstream indie-psychadelic-punk-folk Neutral Milk Hotel. Unlike what the description may suggest, it's a great record in which the lyrics go from the most indecipherable surrealism to the images of a strange oneirism that relates to The Diary of Anne Frank (true story). Also in the 90s, but right in the beginning, Sub Pop, a once underground record label, decided to bring back from darkness Vaselines, a scottish band that was an essential inspiration for Nirvana, golden egg chicken of that Seattle label. Way of the Vaselines is a compilation that brings back tracks like Son of a Gun, Molly's Lips or Jesus Wants Me For a Sunbeam, amongst others, all of them having been reviewed by Kurt Cobain's group. To close this guide, none other than the most underground of all albums: Philosophy of the World (Third World, 1969), by The Shaggs. Cobain himself considered it a "great influence", Frank Zappa said the band was "the third best ever, better than The Beatles". The Shaggs released only this album and the truth is that it became an object of worship and study, even having been considered art brut and avant-garde. It's best to get to know it rather than not know it exists.
Underground: The Movies
We're not here for the news. On the contrary, to get to some of these films you must dig a little. Or a lot. But it's almost always worth it.

It would be weird to not start with Underground (1995), directed by Emir Kusturica, who took it precisely beyond the underground world. The Serbian director, born in Sarajevo, Bosnia, rose to a cult star after this movie, which is a tragicomedy allegory of the breakup of Yugoslavia. Another movie that quickly emerged from the underground is Donnie Darko (2001), a work that may be considered eccentric by the one hit wonder director Richard Kelly. Also underground is the director - and much more, like cartoonist and screenwriter - Kevin Smith, who completed two pearls that became worshiped: Clerks (1994) and Chasing Amy (1997). Always in a dimension parallel to the comics universe, where the director is from, Kevin Smith built, away from mainstream viewers, movies that made an impact. Another that did, and still deserves to be passed on generation after generation, is the initially dark Harold and Maude (1971), directed by the virtually unknown Hal Ashby, that tells the story of an odd romantic relationship: a rich teenager obsessed with death and funerals who finds pleasure in living with a woman about to turn 80. Speaking of death, Dead Man (1995), by Jim Jarmusch. Nowadays, everyone knows and maybe even likes Jarmusch, but in 1995 the American director was an underground figure that, in the 1980s, directed an alien looking project named Down by Law (1986). The wonderful Dead Man, portrayed by Johnny Depp, is almost an announcement of the end of underground: that was when actual cult movies were created. If there are movies that deny their underground essence and end up coming out as worship objects, others deal quite well with the status. C'est Arrivé Près de Chez Vous (1992), or, in english, Man Bites Dog, is one of those cases. It's a wannabe documentary about a guiltless criminal, during which the film crew, at a certain point, starts participating in adventures with their study object. No underground movie guide would be complete if it didn't include the incredible, terrible, hilarious, priceless and unbelievable musical by Jim Sharman The Rocky Horror Picture Show (1975), a hallucinating journey to the bizarre Dr. Frank-n-Furter's house. A director who also frequently worked on underground projects before he started telling stories no one can understand is David Lynch. Two unmistakeable works by him from that time are Eraserhead (1977) and Blue Velvet (1986). Vincent Gallo was also quite promising when he released, in 1998, the magnificent Buffalo '66. However, Gallo didn't reach status beyond underground, which can be partly explained by the unspeakable The Brown Bunny (2003), which makes it very clear that the director is very well just as he is: away from the spotlight.
Originally translated from the Underground issue, published October 2021.Full credits and stories on the print issue.
Relacionados
---