When designers found their inspiration in artists, painters and sculptures, the runway became an art gallery where Yves Klein's color coexisted with Picasso's cubism. When designers found their inspiration in artists, painters and sculptures, art became art. And our wardrobes were never the same.
When designers found their inspiration in artists, painters and sculptures, the runway became an art gallery where Yves Klein's color coexisted with Picasso's cubism. When designers found their inspiration in artists, painters and sculptures, art became art. And our wardrobes were never the same.
Frida Kahlo
From the richness of color to the idea of clothes as messages, from the feminist spirit to the revolutionary soul, from the proud heritage to the authentic image, it's impossible to deny how central Frida Kahlo still is to pop culture – and, of course, to fashion, where the style and figure of the Mexican artists continues to be interpreted and reinterpreted. As Ellie Violet Bramley wrote in the article "Frida Kahlo: feminist, selfie queen, queer icon and style muse of 2017", published in The Guardian in that same year, "in high fashion, Kahlo's influence can be felt in the maximalism of Alessandro Michele's heady Gucci aesthetic. For autumn/winter 2017 that meant florals and bold bows, ruffles and clashing, all in keeping with Kahlo's love of excess; rings, flowers and embroidery. Her influence was also there in the sparkly red hearts, lace and horticultural prints at Dolce & Gabbana and in the hot pink on catwalks from Balenciaga to Burberry. The boxy, mannish tailoring – a key look this season – at Céline and Isabel Marant recalls a family portrait from 1926, in which Kahlo is wearing her father's suit."
From all these examples, one of the most striking happened a few years back, more precisely in Jean Paul Gaultier's Spring/Summer 1998 show. The story goes more or less like this: after being introduced to the works of the Mexican artists through Madonna and feeling her spirit in the singer's house, in Mexico City, the designer decided to transform Kahlo into his muse and honor her with a collection of 80 looks. The result was not only a love letter to the unmistakable image of Kahlo, filled with references such as her eyebrows and her love of flowers, long skirts, striking colors and jewelry, but also to her famous works of art – in what was a clear reference to her 1944 painting "The Broken Column", the fourth look of the collection featured a series of black buckled stripes across the chest. "The beauty, strength and pain that come through her work touched me deeply", said Gaultier to Vogue, cited by the platforms Google Arts & Culture. "Frida represented someone without fear, and someone who is timeless. I've always loved difference, and Frida was not afraid of being different."  
Pablo Picasso 
There is a number of curious factors about Pablo Picasso that could inspire a number of ready-to-wear collections – things like his 23 names, the delightful coincidence of his first word, "pencil" or the irony of his not so brilliant performance as a student. But for Jeremy Scott, the story of how Picasso was accused of stealing the Mona Lisa was the one that made the designer scream "art attack" for Moschino's Spring/Summer 2020 show. "That's the thing about Picasso", said Scott in an interview with Vogue. "Just when you think you know everything there is to know, he surprises you." The designer's reinterpretation of some of Picasso's most outstanding works with that kitsch Moschino twist was also a surprise – think about the artistic representations of bull fighting that gave way to matador jackets and shorts, the guitars transformed in dresses and paintings such as "Les Demoiselles D'Avignon", "Le Marin" or "Femme au beret et a la robe quadrille" that served as inspiration for a number of looks that could, very literally, be in any museum.  
Andy Warhol 
It's quite difficult to imagine the fashion industry – and the art world – without the creative genius of Andy Warhol, the man who worked as an illustrator for Harper's Bazaar (fun fact: then editor Diana Vreeland called the artist by the nickname Andy Paperbag) before creating his famous works of art featuring Campbell's soup cans and becoming a true pop culture icon. Even though Warhol always maintained a strong connection with fashion, the 80s were the time when the artist truly hit the runways, first with Jean-Charles de Castelbajac's Spring/Summer 1984 show, where Inès de La Fressange wore a dress shaped as a soup can. From then on, Warhol became a constant reference for a number of designers – Miuccia Prada drew inspiration from Warhol's "Flowers" for Prada's Spring/Summer 2013 show; before collaborating with The Andy Warhol Foundation for the Visual Arts and imprinting a series of iconic images by the Pop Art master for his Spring/Summer 2018 Calvin Klein 205W39NYC collection, Raf Simons incorporated a number of shoe drawings made by Warhol in the 50s for his Dior Fall/Winter 2013 show; Gianni Versace translated his admiration for Andy Warhol in Versace's Spring/Summer 1991 collection with the iconic dress printed with images of Marilyn Monroe and James Dean, later reinterpreted by Donatella Versace in the brand's Spring/Summer 2018; and Jeremy Scott is constantly influenced by Andy Warhol and his fascination with consumerism, both in his brand and in the Italian Moschino. 
Piet Mondrian  
Primary colors. Primary values. Primary directions. Some of the most famous works by the Dutch painter and pioneer of abstract art are written (better, painted) with three elements only. In 1965, Mondrian's horizontal and vertical lines, shapes painted in red, blue and yellow, and use of black and white as lines connecting the dots, inspired Yves Saint Laurent to create what is now known as "The Mondrian Collection". Even though the haute couture venture was composed by 80 looks from which only six referred to Piet Mondrian's work, and besides the fact that the Dutch artist was a las minute inspiration for Yves Saint Laurent – at the time, the designers confessed that the idea only came to him when opening a book on Mondrian given to him by his mother on Christmas – the geometric and colorful dresses created by the couturier became one of the most famous (and copied) icons of style from the French house. This collection also marked the beginning of a dialogue between fashion and art, a dialogue that would come to define a considerable part of Saint Laurent's career and the looks made in tribute to some of his favorite artists – besides Mondrian, names like Andy Warhol, Henri Matisse, Vincent Van Gogh, Pablo Picasso and Georges Basque were inspired the couturier throughout the years. 
Salvador Dalí  
Nobody truly knows how they met, but everybody knows what happened when the paths of the Surrealist master Salvador Dalí and the brilliant couturier Elsa Schiaparelli crossed, for the first time, in the beginning of the 30s, somewhere in Paris. "On the artistic side, they shared real daring," Hank Hine noted in an article published by Artsy. "They shared this sense of doing astonishing things that would shock and amaze." Together, Dalí and Schiaparelli created the foundations for the artist and designer collaboration, and the worked they shared is an extraordinary proof of mutual respect and admiration – while Dalí wrote that the second half of the 30s. was defined by Schiaparelli and her shop at Place Vendôme, the designer looked at the Surrealist painter as one of her biggest sources of inspiration. For instance, the black and pink "shoe hat" famously created by Schiaparelli was born from a picture of Dalí wearing a shoe in his head; the irony that both visionaries shared made the iconic 1937 "Lobster Dress" possible – a milestone that, 80 years later, was reinterpreted by Bertrand Guyon for the Schiaparelli Spring/Summer 2017 Couture collection; and from a drawing of the painter, featuring a woman with a sheer dress that showed her bones, comes the 1938 "Skeleton Dress". And just like that, art and fashion were never the same.  
Niki de Saint Phalle 
"I don't mind wearing tall boots o flowers in my hair if I'm in the mood to do so. I think that clothes should be a statement. I know mine are. They are what I feel." The sentence belongs to none other than Niki de Saint Phalle, the French-American model who dedicated her life to art an gave the world a series of exuberant and colorful sculptures – among them the famous "Nanas", works of art that contemplated the various roles of women in society – and a number of abstract painting that came to life thanks to a rather odd method – in an act of protest against the patriarchy and the rigidness of society, the artist would place bags filled with paint on top of her canvases and shot them. That being said, it's no wonder that Maria Grazia Chiuri looked at the life, work and style of Niki de Saint Phalle for the Dior Spring/Summer 2018 collection – in fact, Niki nurtured a strong friendship with once creative director Marc Bohan and was a true admirer and client of the brand. The result was a collection filled with a number of references to de Saint Phalle, from the "Nanas" to the multicolored hearts, dragons, Tree of Love and Tarot Garden, located in Tuscany. 
Bauhaus 
"As a school of thought, Bauhaus epitomizes how designers think about design in today's world. I think fashion, as an applied design discipline, has to always find an equilibrium between creativity and commerce; looking at the functionality of design, while communicating something for our times. That is as relevant today as it was then." The words belong to designer Mary Katrantzou and were taken from a Vogue piece that explores how 100 years of Bauhaus have influenced fashion – and no doubt that the school best known for its geometric shapes, strong lines and bursts of color had a monumental influence in a number of designers. From André Courrèges to Mary Quant and Jil Sander, whose foundations, as the designer told Suzy Menkes in a 2017 interview, are rooted in the Bauhaus movement, the approach of the German school was often times interpreted by the fashion industry – including Mary Katrantzou, first in her Spring/Summer 2011 and later in her Fall/Winter 2018, where she incorporated Bauhaus posters in a number of looks. "In my AW18 collection, Bauhaus represented this purity of form, the pragmatic nature of design and how that directly translated into fashion. Graphically, we looked a lot at Bauhaus posters, the utilization of geometry, which we translated as knitwear."
Robert Mapplethorpe 
I wanted to approach it like a museum show, or a gallery show. Which has been done very often when it comes to Mapplethorpe's work. Cindy Sherman did it, David Hockney did it. But always in a gallery. I am a fashion designer. I thought the biggest challenge would be to do it in my own environment." These were the words that Raf Simons told Vogue Runway when he collaborated with the Robert Mapplethorpe Foundation for the Spring/Summer 2017 of his homonymous brand. When invited to dive into the archives of the photographer and pay tribute to his work and legacy, the Belgium designer constructed a collection that went beyond the more than fifty looks printed with Mapplethorpe's images, from his flowers to his portraits, featuring a number of references like colors, materials and a casting of models that, as Simons explained were representations of Mapplethorpe's work, rather than simple doppelgängers.  
Ricard Prince 
In his 16 years as Louis Vuitton's creative director, Marc Jacobs did not waste any opportunity to pay tribute to both the art and the artists. In 2001, the designer collaborated with Stephen Sprouse in a colorful and vibrant take of the holy monogram of the French house; two years later he tapped Takashi Murakami to create what came to be a symbol of the 2000s; and later, in 2012, Yayoi Kusama injected her famous polka dots in a series of Louis Vuitton bags, clothes and accessories. But one of the most memorable encounters between Louis Vuitton (via Marc Jacobs) and art happened in the Spring/Summer 2008 show. Winking at the work of Richard Prince, Jacobs presented a number of handbags with a washed monogram and an imprint of the artists "Jokes" series, as well as referencing the famous "Nurse" paintings (also seen in Sonic Youth's "Sonic Nurse" album) by casting models Naomi Campbell, Stephanie Seymour, Eva Herzigova, Nadja Auermann to open the show dressed as nurses.  
Yves Klein 
"One day, I understood that my hands, the tools by which I manipulated color, were no longer sufficient. I needed to paint monochrome canvases with the models themselves." And that's exactly what Yves Klein did in 1960, with his series "Anthropometries", which borrows its name from the study of the measurements of the human body. With his models transformed into "living brushes" and only wearing his Klein Blue, the artist created a series of monochromatic works of art – for Klein, painting with one color only was the equivalent to a window open to freedom, to the possibility of being immersed in the immensurable existence of color. Those same works of art inspired Phoebe Philo's Céline Spring/Summer 2017 collection, and just like the artists did back in his day, the designer and then creative director used the blank space of two white dresses to imprint the blue female figures created by Klein in the 60s. 
Jackson Pollock 
One of the first references to Pollock's art in the fashion world happened in 1951, in the March issue of Vogue, a number where Cecil Beaton photographed some of the seasons most striking looks in front of paintings by the American artist. Many others followed, among them Dior Homme's Fall/Winter 2017, Dries Van Noten's Spring/Summer 2011 or Vivienne Westwood's Spring/Summer 2014, each looking at Pollock with a different and keen eye, be it to construct blazers, shirts or simply splash some paint on the model's faces. As brilliant as all of them may have been, it was Alexander McQueen who most notably incorporated Pollock's work on the runway. For his Spring/Summer 1999 show, and in a striking moment of women versus machine, model Shalom Harlow took center stage and twirled around a platform while two mechanic arms sprayed black and green paint in her immaculate white dress – a clear allusion of Jackson Pollock's technique.  
Giuseppe Arcimboldo
Somewhere between 1590 and 1591, the Italian Giuseppe Arcimboldo painted the famous "Vertumnus", in which Emperor Rudolf II took the form of Vertumnus, the Roman God of metamorphosis in Nature and life. To symbolize that the Emperor's rein would be abundant and harmonious, Arcimboldo – best known for his surrealist portraits of human figures concealed in vegetables, books, plants, kitchen utensils, fruits, sea creatures, animals and roots – covered the Emperor's face with the season's fruits and flowers. 400 years later, the image emerged in Rei Kawakubo's Comme des Garçons Spring/Summer 2018 collection, accompanied by other artistic references like Abraham Mignon's florals, E Boy's pixelized landscapes and Macoto Takahashi's anime drawings.
Comics
The illustrated works of Brigid Elva, Jöelle Jones, Stellar Leuna, Giuliana Maldini, Natsume Ono, Emma Rios, Trina Robbins, Fiona Staples and the archives of Tarpé Mills, the creator of the first female super-hero, Miss Fury. For Prada's Spring/Summer 2018 collection, these were the women and female artists that Miuccia Prada – a passionate art lover – brought to the runway. The collection was, as always, empowering, and the cartoons and manga, hand in hand with the all-important feminist issues, took center stage not only in the clothes, but also in the set. "I found it inspiring that with a pencil in your hand, you can tell your life", Miuccia told Vogue. That inspiration was translated in deconstructed suits, baby doll dresses with a punk twist, oversized jackets and pieces illustrated with comics from head to toe – and a will to change the world, especially for women. 
Spanish painting
From Goya's "La reina María Luisa con tontillo" to Velázquez "Las Meninas", the colors of El Greco and the volumes of Francisco de Zurbarán, there were many Spanish works of art that inspired Cristóbal Balenciaga and the silhouettes that the Spanish born designers created throughout his career. As Diana Vreeland once noted, Balenciaga "brought the style of Spain into the lives of everyone who wore his designs". For the legendary editor, the couturier was "the true son of a strong country filled with style, vibrant color, and a fine history", and "his inspiration came from the bull rings, the flamenco dancers, the fishermen in their boots and loose blouses, the glories of the church and the cool of the cloisters and monasteries. He took their colors, their cuts, then festooned them to his own taste.". In 2019, this impressive dialogue between Balenciaga and art was explored in the exhibition "Balenciaga and Spanish Painting", at Thyssen-Bornemisza in Madrid, where a number of the designer's creations were featured site by side with some of the most prominent examples of Spanish paintings.  
A night at the museum 
Some designers look at painting and print it in a coat. Others look at a photograph and transport it to a shirt. Others look at a sculpture and apply its shape to a dress. And then there is the Fall/Winter 2015 Couture collection imagined by Viktor & Rolf and baptized with the name "Wearable Art". More than a fashion show, this particular collection was a true performance piece – look after look, the jackets, vests, skirts, dresses and capes used by a handful of models, some as blank canvases and others as more elaborate paintings, surrounded by a deconstructed gold frame, were repurposed and hanged on the wall by Viktor Horsting e Rolf Snoeren like painting in a museum or art gallery. After the twenty looks were presented in an amazing evolution of the creative process itself, from a blank space to a striking floral, the question "Is fashion art?" was answered with a simple "Fashion can be anything. It can be Fashion. And it can be Art, too".
Most popular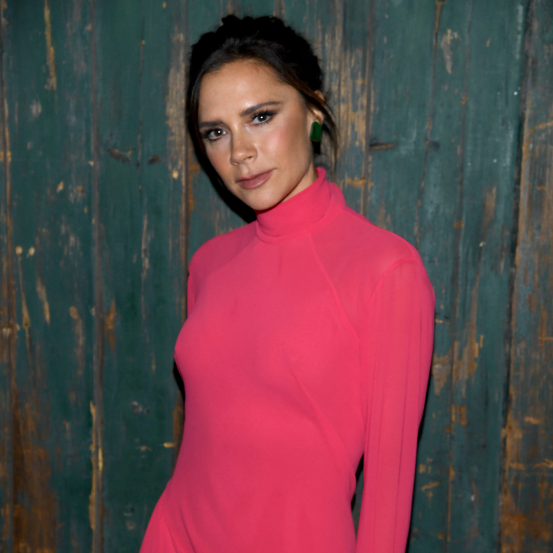 As cinco regras de ouro para uma pele perfeita, de acordo com a facialista de Victoria Beckham
14 Nov 2023
Relacionados
---