The D & G duo make fashion a religion
The D & G duo make fashion a religion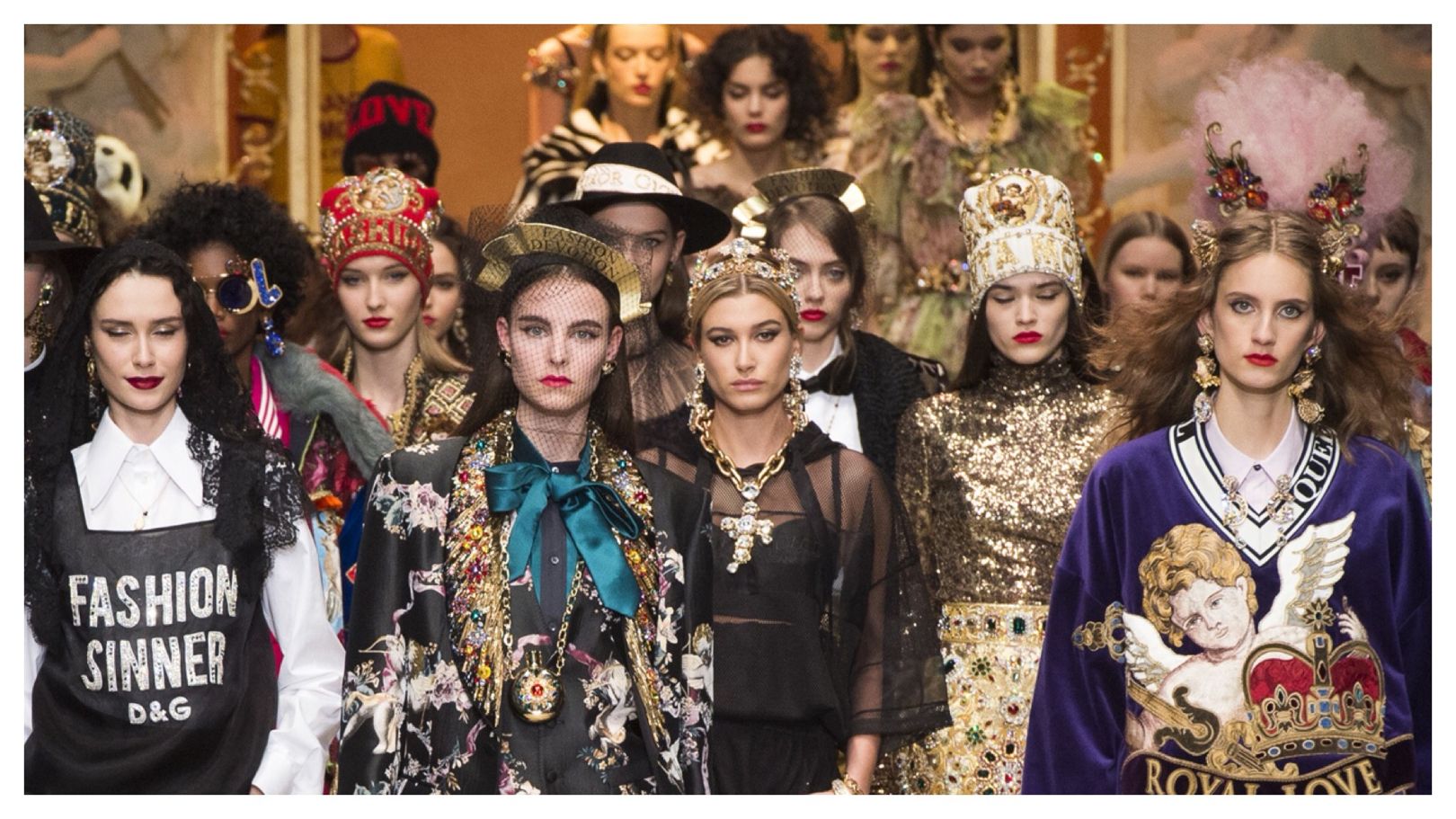 Dolce & Gabbana Autumn/Winter 2018 ©Imaxtree
With drones arriving like fireflies above the stage, Dolce & Gabbana found a new way of entertaining the audience. Each remote-controlled device carried one of the duo's latest handbags. Cue cheers, giggles and a thousand Instagram posts all round.
Has this fascination with the smart phone app actually changed the course of D &G, the company? There are visual feasts turning up constantly from these designers. I believe I might have seen seven shows last year, including the unforgettable vistas of Sicily for a three-day client bash and a mini 'kids of' show in Milan, which brought glamorous mothers to the front row to watch their darlings walking. Another show at London's Harrods store had clients gathering in the Food Hall or shopping upstairs in a corny replica of a Southern Italian market.
Enough already of this crazy fashion couple! Yet there was more! Only ten days later came another British show for eager clients held at the D & G store on London's Bond Street.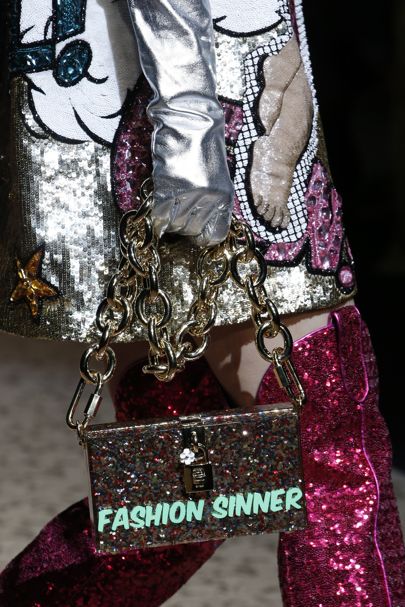 Dolce & Gabbana Autumn/Winter 2018 ©Imaxtree
And now, back in Milan for the Autumn/Winter 2018 shows, here was another 'secret' show for - and modelled by - the younger generation. The shows-before-the-shows were on the Saturday of Fashion Week and the official ones on Sunday, as the Milan season wrapped up.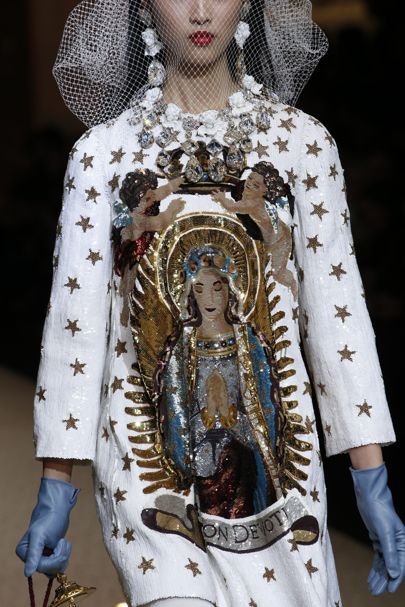 Dolce & Gabbana Autumn/Winter 2018 ©Imaxtree
But of course! The show had to be on Sunday with all that religion going on. It may be nearer to heaven in a drone, but the models ignored the overhead offerings and emerged from a faux-marble building with words over the door: 'Fashion Devotion'.
They then proceeded to make the most of their embellishments and accessories, which were more like heavenly offerings. Sacred hearts, brocade embroideries, plush velvet and prints of religious iconography were all in the unsubtle mix.
Basic pieces like elegantly cut coats and little black dresses were a godsend, but there was a lot else going on. Or should that be stitched on?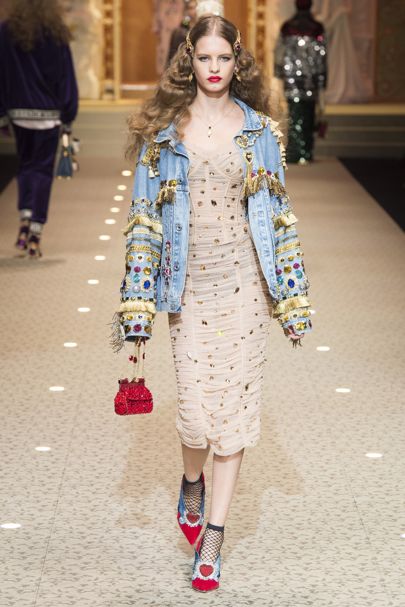 Dolce & Gabbana Autumn/Winter 2018 ©Imaxtree
Anything from a denim jacket to a floral dress was smothered in votive offerings, exuberant zebra prints or rambling roses - or more dotty decorations. A knives, fork and spoon print from the local monastery perhaps?
The show, fun as it was, could have been cut by at least a third of its 115 heavenly offerings. But the energy and charm were infectious.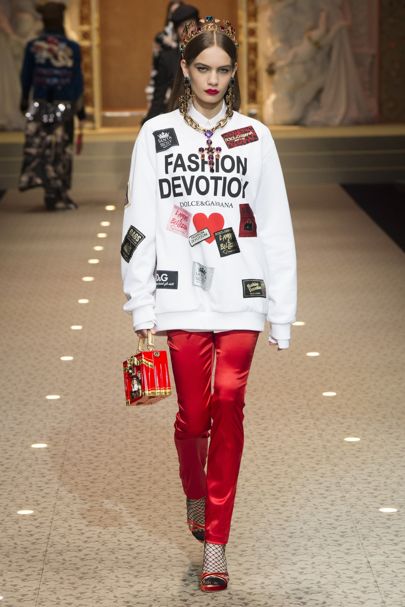 Dolce & Gabbana Autumn/Winter 2018 ©Imaxtree
With so much trouble and misery in the world - and religion often at the core of the conflicts - will Stefano and Domenico try something more inclusive and move away from rampant Catholicism made 'fun'?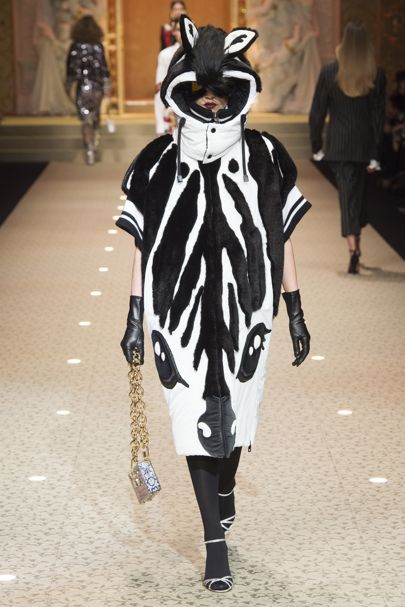 Dolce & Gabbana Autumn/Winter 2018 ©Imaxtree
Perhaps. But the D & G duo are in sync with a fashion moment. The Met Ball, the annual event from the Costume Institute at New York's Metropolitan Museum in May has an unexpected theme: 'Heavenly Bodies: Fashion and the Catholic Imagination'.
Fashion and God seem an unlikely pairing. But at least the Met ball goers now know where to shop.
Relacionados
---