Between opening a new store in Berlin, remodelling a Tokyo shop, and celebrating his iconic pink store in L.A., the designer finds time for his other loves – from music to bicycles
Between opening a new store in Berlin, remodelling a Tokyo shop, and celebrating his iconic pink store in L.A., the designer finds time for his other loves – from music to bicycles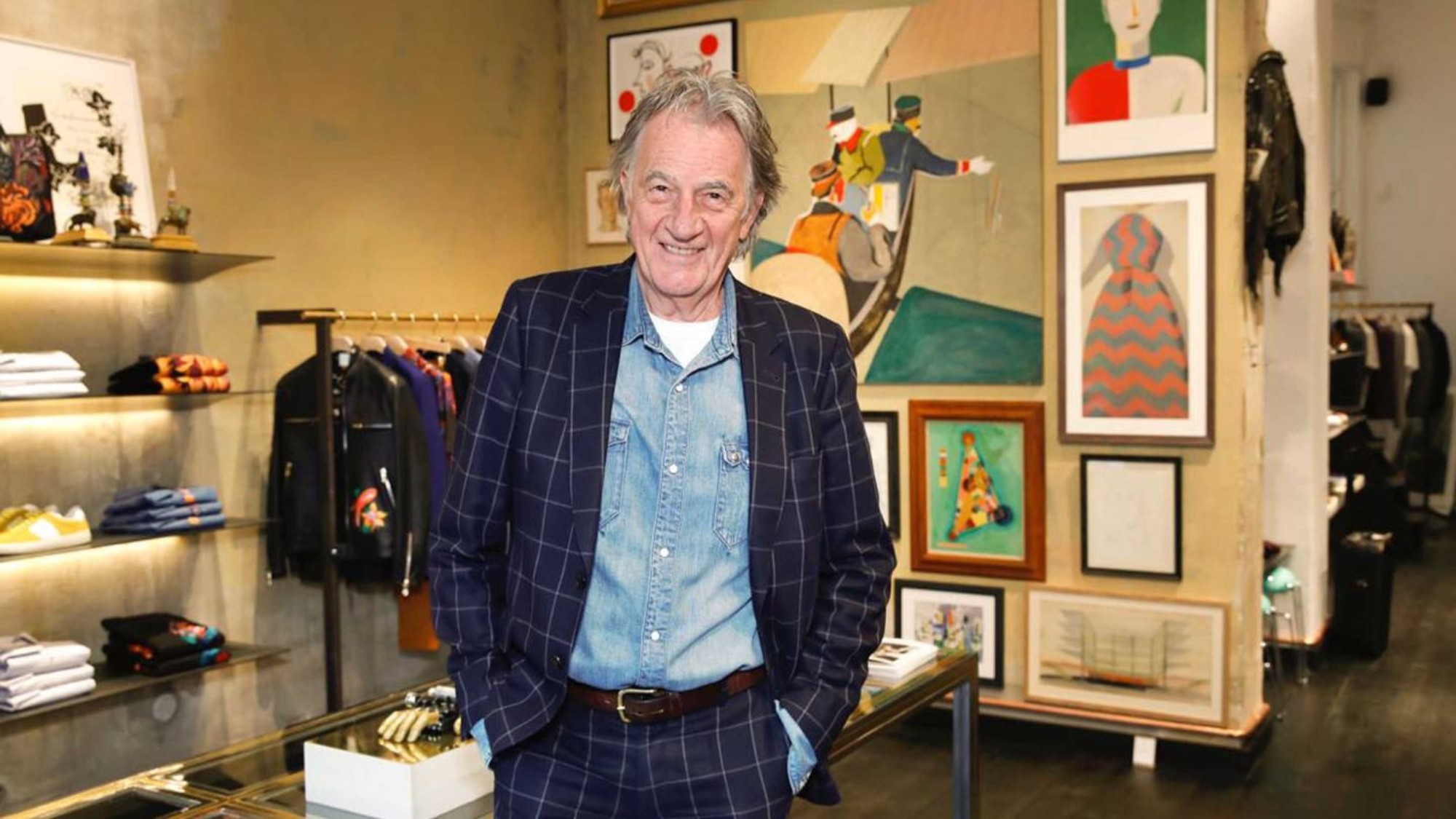 Paul Smith at the recent opening of his first boutique in Berlin, on Potsdamer Strasse ©SUZYMENKESVOGUE
"What absolutely throws Pauline and me is that students at the Royal College of Art (RCA) had to wear white gloves when they went to a fashion show," says Paul Smith, reminiscing about his early days, back in the 1960s, when he met his future wife, Pauline Denyer, at age 21. Denyer was trained in hand-making couture clothes at the RCA.
"After we met, we were privileged to go to couture shows in Paris together because Pauline was teaching and we would take her students to see the shows," Paul remembers. "There were just one or two shows a day, with tiny audiences often of no more than a couple of dozen people. It was so different from today; there was so much more reverence and so much more anticipation. I remember waiting to see the reports from the Paris shows in the weekend newspapers and then the clothes wouldn't reach the shops until six months later. It was very different from the immediacy of today, so much calmer, so much less manic!"
We are in Paul's personal studio in a modernist building in London's Covent Garden – a room famously filled with every kind of quirky toy, teapot, and bicycle wheel as well as a heap of hats. You might therefore be forgiven for thinking that the designer's head was buried in the past – or at least in historic headwear.
But apart from his insistence that every man needs a suit – "We still sell 90,000 suits a year, which is fantastic" – the designer seems possessed with the here and now. This is evidenced by the online service he has constructed in a vast new warehouse in Nottingham – the city where, after a bike accident shattered his teenage hope of a sports career, he opened a tiny shop measuring three metres square back in 1970.
Paul loves each of his shops with a passion, but right now he is excited about digital sales. "We took £150,000 of orders on Christmas Day in the UK," says the designer, reeling off answers about financial figures, barely drawing breath.
"How many stores do you have in Japan?" I enquire, remembering the early years when the super-tall Paul would bend double to entertain a spellbound crowd of Japanese locals, enthralled by his new idea of "classic with a twist".
"I remember!" says Smith. "Now we have 236 shops worldwide and a £200 million wholesale business in Japan (including 94 Paul Smith boutiques there)."
In spite of a current belief that the power of the suit is waning, with casual sportswear overwhelming formality, the designer is relentlessly optimistic, talking about the new growth of his womenswear – still not in full flower – and a focus on "neighbourhood shops", meaning areas like the Bastille and Marais in Paris, or at London Bridge. To these can be added the new Berlin boutique, at 92 square metres, as well as an outpost in Hamburg.
There is a new "classic with a twist" addition to the signature Paul Smith stripes and the quirky art pieces filling the walls of the Berlin shop in the trendy Tiergarten area. Paul has followed historic local tradition by adding hooks on the outside for a changeable display of wares.
Apart from his presence in Germany at the shop opening at Easter, does Smith, 71, still feel attached to the shops – as he used to as a lad half a century ago?
"I still like to spend Saturday morning in Albemarle Street," he says, referring to his wholly-owned London shop, where works of art and one-off pieces of original furniture mingle among the clothes.
Upcoming in May is a capsule collection designed in collaboration with Nick Cave and the Chemical Brothers, with jumpers and bomber jackets created by graphic designer and creative director Tom Hingston. The exhibition, named "Progress", celebrates Hingston's 20-year collaboration with Smith.
Currently on display in Albemarle Street is a photo of David Bowie, who is described by Smith as "head-to-toe in black-and-white houndstooth check, looking so elegant". The designer remembers the 18-year-old son of a friend going to the Paul Smith shop on Floral Street, coming out of the dressing room to look in the mirror, and bumping into a man who said, "Oh, you look great." It was Ziggy Stardust himself.
He also reminisces about the basic Paul Smith white poplin men's shirts worn in Vogue by supermodel Linda Evangelista, and the men's raincoats photographed by Bruce Weber. "I can even remember the number – 344 – just a little ecru raincoat with a set sleeve at the front and raglans at the back," he says.
How can Smith remember such detail about designs from two decades ago? Probably because he is so involved in their making. We tour the workrooms, where I watch the meld of high tech and handwork, and the designer tells me about inheriting a fascination with photography from his late father. Yet some of the most striking pieces have started their life from classic sources: a scene from Ireland drawn and painted by one of his design team; or colourful threads laid on cloth.
Each pattern or picture tells a story, from a figure skydiving to an urban fox in repeat pattern on a top. And, of course, there are variations on the famous striped sweater. Casual tailoring and sportswear may reign as kings of the closet right down to sporty shoes, yet, after all these years, Smith has a whimsical wish for the elegance of dressing up.
"It seems disappointing to me that there is no sense of occasion now," he says. "Why do we make all of these clothes if everybody looks like a scruff the whole time? You go to the opera or somewhere nice and there is not any effort made. And designers come out at the end of the fashion show where you've been looking at £1,000, £2,000, £3,000, and £4,000 dresses, and they're wearing a Uniqlo T-shirt and a pair of scruffy jeans!"
It goes without saying that to meet me in London and to greet clients at his new Berlin store, Sir Paul Smith – knighted by the Queen in 2000 – was wearing a smart suit and a pair of lace-up leather shoes.
Relacionados
---