The forbidden fruit is always the most desirable and since we miss a bold red lip so much we decided to go in search of the red lipstick to rule them all.
The forbidden fruit is always the most desirable and since we miss a bold red lip so much we decided to go in search of the red lipstick to rule them all.
Promises: a luxurious texture that melts on the lips, covering them with sumptuous color and a watery shine. A sensorial and long-lasting experience that guarantees smoothness and hydration for 24 hours. With 95% natural ingredients and 20 shades inspired by flowers to celebrate nature and spring. Vogue's word: If comfort is your priority, this is the lipstick for you. It is the most creamy and the most glossy of this selection, which makes it the most comfortable, but also the one that transfers the most. However, even the way it fades throughout the day is beautiful, as it disappears evenly and leaves behind a very light tint, like a touch of color. I prefer glossy textures over mattes since for me the ideal lipstick is the one you don't feel on the lips and this one has a shine that is not exaggerated or sticky. Another great thing about this texture and product is that it allows us to use this lipstick as a cream blush - a trick to uniformize the tones in your makeup look that I love and that is very popular in French beauty. Poppy Red is a bright red that fades to a rosy pink and is very wearable in everyday looks, but if you prefer a ready-for-summer cherry red, aim for the darker tones in this collection, since the formula is not very opaque.
KissKiss Shine Bloom Lipstick in the shade Poppy Red, € 40,40, Guerlain.
Promises: to act as a second skin. A comfortable and smooth velvety lipstick, as the name implies, a balance between a matte and satin with a comfortable texture. The ultra-thin, pure and highly concentrated pigments guarantee intense colors and the jojoba oil brings comfort and softness to the lips. Vogue's word: This is my go-to. He is the only one who travels back and forth with me (besides the classic nude). The formula is extremely pigmented and the shape of the bullet allows a precise application, allowing you to skip the lip pencil to contour the lips. It is not matte nor glossy, it stays in the middle with a texture I can only describe as creamy. The formula is really comfortable but, for this reason, it is not the most long-lasting lipstick ever because the comfort of a satin lipstick means that it transfers a little bit, especially in the center of the mouth, where it also accumulates a little bit of product. The shade was limited edition, but it is the type of red I consider universally flattering because it is slightly darker (like a berry shade) and has a very neutral undertone.
Rouge Allure Velvet lipstick in the shade no tom Camélia Carmin, €38, Chanel.
Promises: a long-lasting formula with a guaranteed intensity of up to 12 hours and a completely matte finish. Vogue's word: To talk about red lipstick without mentioning Ruby Woo would be criminal. It is so iconic that the brand itself describes it as its number 1 and universally flattering, universally adored product. And it's easy to see why just by looking at the tube. The shade is a true red with very vintage vibes and a cooler undertone - which is generally more appreciated and suits most (if not all) skin tones. From this selection, this one is the driest and the most matte of all, but it is not uncomfortable despite the drier formula. It passed the wear test with distinction, and I have to say that at some point I forgot that I was wearing it (which is rare for a matte lipstick). It hardly transfers, I didn't notice any big marks on glasses and mugs and it stayed in place for at least 8 hours - but it didn't pass the spaghetti test, as I expected, but that's ok, nobody's perfect. What I liked the least about it was the fact that it settled a bit in the lines of the lips making them more visible after a few hours of use, but despite that, at the end of the day, I did not feel the need to lather on some lip balm to fix my crusty lips. 
Retro Matte Lipstick in the shade Ruby Woo, € 20, MAC Cosmetics. 
Promises: to be more than just a lipstick. Presented in a golden "jewel" case - and, in the Christmas edition, the bullet is decorated with delicate snowflakes. The unique formula in rich tones with a luminous finish for perfectly sculpted and defined lips to create a captivating and sophisticated look. Vogue's word: From time to time we come across some beauty products that look beautiful that we even feel bad for using them. That was my reaction when I rotated the elevator that brings up the tube of lipstick that comes embellished with shiny snowflakes. A fine glitter that does not give lipstick that sandy texture that we can expect from these formulas. It is already a classic of the brand's Christmas collections, either because the red is typical of the season or because of the packaging itself (which Dior refers to as a "jewel"). The tone is a rich red, very festive, but nothing that cannot be used on other occasions, and the shape of the tube also allows direct application and facilitates touch-ups throughout the day. In addition to the pink sparkles, the finish itself is luminous, but not enough to make it too metallic.
Diorific Lipstick in the shade Shimmery Red, € 45,50, Dior.
Promises: to test the limits with its innovative design for maximum precision and to match intense and high coverage colors with a long-lasting matte finish. Vogue's word: It is a very vivid red - the brightest of them all, without a doubt - and although I don't care much for fragrance in makeup, I have to mention the sweet smell that came from this tube of lipstick. The finish is described as leather-matte and the tube - this time it is not a tube, since the lipstick is square - comes in this format to allow for a more precise application. And YSL does it again with the packaging, no doubt. But the shape, as innovative and beautiful as it may be, is not very user-friendly. The matte finish is slightly drier than the MAC Cosmetics one, but in terms of wearability, it also does not become too uncomfortable - despite making the lips a little thirsty for some hydration at the end of the day. It is also not a one swipe is enough kind of lipstick and to get it to achieve its full potential I recommend going in with a lip liner and then saturating the color with a lip brush or directly from the tube. 
Rouge Pur Couture The Slim Lipstick in the shade Rouge Extravagant, € 40,50, Yves Saint Laurent.  
Most popular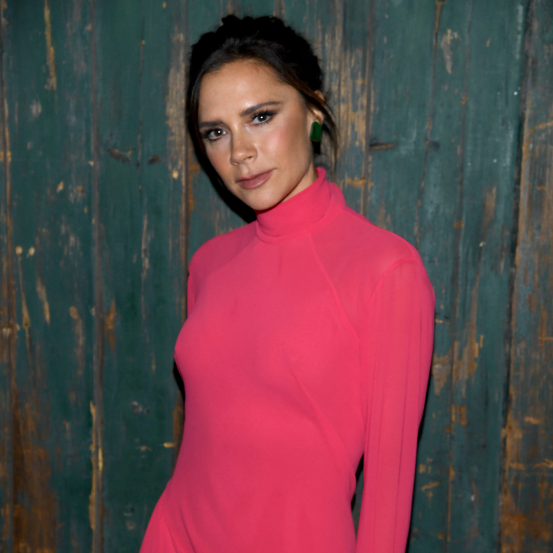 As cinco regras de ouro para uma pele perfeita, de acordo com a facialista de Victoria Beckham
14 Nov 2023
Relacionados
---