She's one of the most relevant fashion designers in the UK and, why not say so, in the entire industry. If you only associate the name of Molly Goddard with one of the most important moments of the character Villanelle, the stylish murderer of "Killing Eve", this is the right time to correct this gigantic faux-pas. Because this is Goddard's world, we just live in it.
She's one of the most relevant fashion designers in the UK and, why not say so, in the entire industry. If you only associate the name of Molly Goddard with one of the most important moments of the character Villanelle, the stylish murderer of "Killing Eve", this is the right time to correct this gigantic faux-pas. Because this is Goddard's world, we just live in it.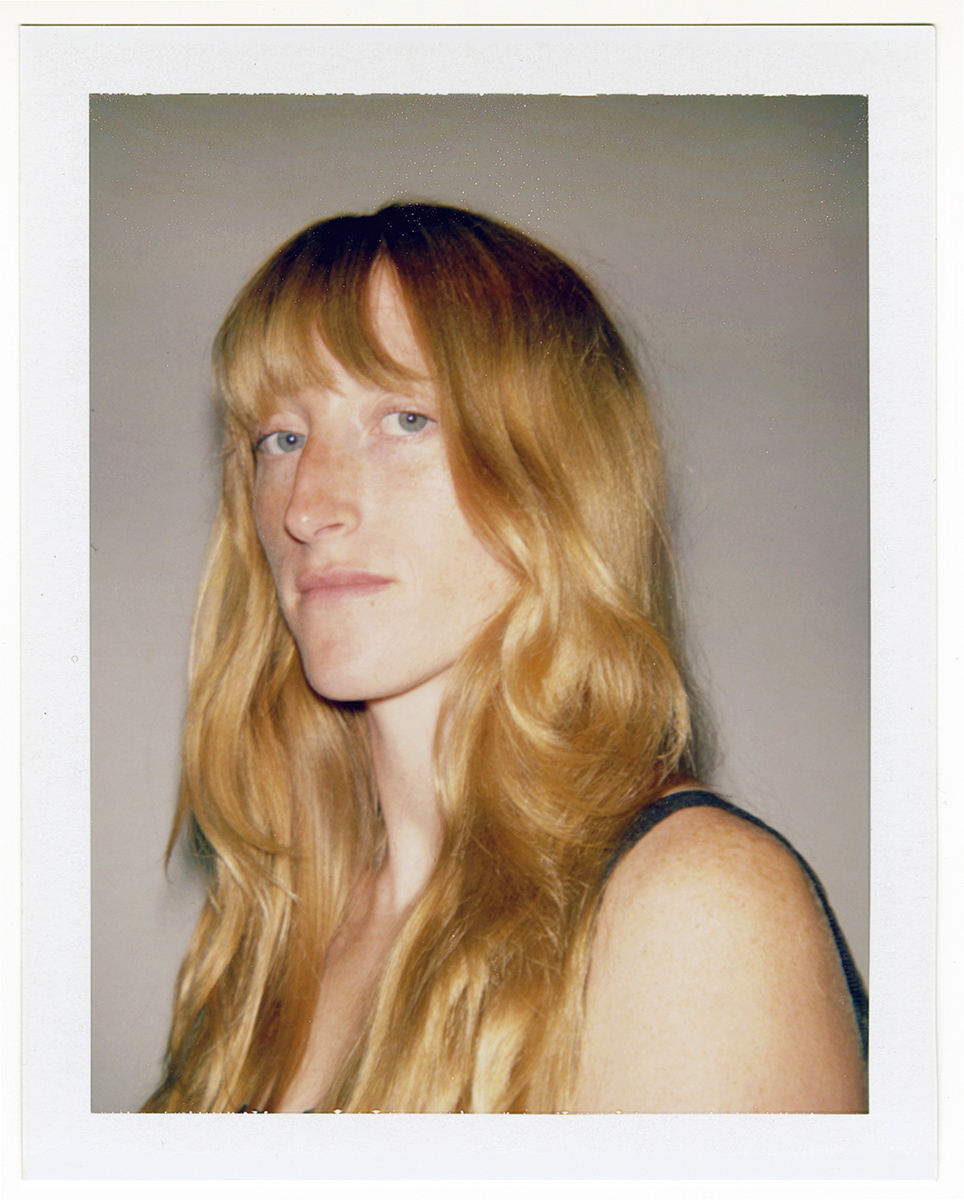 "This season I missed the library, I missed people watching and shopping at markets. My research was focused on books I had at home; Tina Barney's Europeans, David Douglas Duncan's Goodbye Picasso and many Terence Conran House and DIY books which occasionally feature a well-dressed person in a beautiful home." This is how begins the press note accompanying the autumn/winter 2021 collection by Molly Goddard, presented at the end of February in a gallery in Bethnal Green, London - where, by the way, all of the brand's events have taken place in the last year. The show was faithful to Goddard's aesthetics, applauded for making "otherworldly" pieces, like tulle dresses with innumerable layers that seem, at first glance, impossible to use on a daily basis, and which have became, with time, basic wardrobe staples for any modern punk girl, but added a new maturity to the aesthetics of the English designer trained at the prestigious Central Saint Martins: now there are structured blazers, colorful knitwear (for her and for him), and new attention to tailoring, seen especially in coats, details that send the ball gowns into the background. They are still there, you see them with bright golden high boots, they just became more adults. Or wiser. It's normal. Molly Goddard (also) grew up. At the time of writing these lines, the designer is eight and a half months pregnant. The joie de vivre of the girl who, in 2014, rented the hall of a church in Mayfair and asked 20 friends to use the pieces from her graduation collection, in order to get the media's attention, is still there. Only now, a lot of experience and several honors later - she was one of the finalists for the LVMH award in 2017, and in 2018 she won the BFC / Vogue Designer Fashion Fund - Goddard learned how to navigate the waters of the industry. In the middle of a pandemic, she took a risk, and launched a Bridal Collection and an e-shop, which are a success. Sneakers and pleated skirts still make her dream, color still commands her imagination, the difference is that Molly Goddard is no longer just an artist who does beautiful things. She is an artist who does beautiful things, with a purpose. Yes, these dresses are no longer (just) for girls.
This past year was difficult for everyone, and this also extends to fashion. So this is a natural question: what are the (big) changes you would like to see in the sector when this is all over? There are a lot of things that need to change within the industry and I think kindness and patience in the industry is lacking. The main realization was that the most important thing is trust and good relationships, good behavior goes a long way. Being sustainable in the environmental context is huge, however I think it is equally important to have sustainable business practices to ensure as little harm as possible is being done not only to the planet but to everyone we interact with as a business - making sure to treat staff and everyone we work with fairly and kindly and paying them properly. Our sales plan is always to understand our customer more and get to know them. Our aim has never been to make thousands and thousands of items but to make special pieces which people treasure and keep forever.
A lot of shows have been cancelled, some brands have decided to do fashion films, others have been opting for small presentations. How important is the fashion show to you? I love fashion shows, we work really hard to make our shows incredibly efficient but super impactful with minimal waste. I want everyone viewing, and working at the show to have a good day and be immersed in our world. My team works so hard to put every collection together and I put so much research and development into each season we all need the cathartic release of a physical show. Each show is connected to the collection, so from the moment I start developing the clothes I am thinking about what the person wearing them is eating, smelling, drinking and listening to and that all feeds into the show idea. I always think about how the audience will respond and how I want them to connect to the collection by setting the mood. I enjoy creating something that doesn't feel like a classic show, but something that alters the way you feel, bad or good!
Do you think the Fashion Week's calendar still makes sense today? Is it sustainable to maintain it? To be honest I have not enjoyed the transition to a more digital experience but it has been very interesting and makes you realise how few people see the clothes we make in the flesh and how even fewer see the shows live. Coming up with videos that everyone sees equally was great fun and a really positive experience, despite still being a massive amount of work. I do however value and love the tradition of fashion shows and reviewers and feel that unless you see the show in the flesh it's never quite the same as seeing it online. I think there is room for both though from now on.
How have you been approaching your own way of work since the pandemic erupted? Do you feel less creative? Do you still go to the studio, or do you work from home? Throughout the lockdowns here in the UK my whole team has continued working both at the studio and from home. It really shone a light on how dedicated and hardworking my team are and also how much we rely on the local community of craftspeople and makers in London. Having production throughout London and the rest of the UK saved us and made me realise it's something we should be incredibly proud of. I've definitely learnt to slow down - we've always been selective with what we do but the past year has taught me how important that is and that being ambitious but also aware of our capabilities and enjoying what you do is the most important thing. I struggled with working from home and have cherished being back in the studio when possible in an environment surrounded by interesting people and beautiful things, this is my favorite part of the job.  
This "new normal" has got all of us thinking a lot about our lives. Do you also get the sense that you were forced to putting things in a new perspective? Fashion is a business like any other, we have staff on salaries and invoices to pay each day. It can be easy to forget that sometimes and I don't think people realise that beyond the fun side of it there is a lot of boring work going on.  Having said that it's an industry that inspires people and provokes change and that's something to be celebrated!
The search for leisurewear has reached a peak that would be unthinkable only a few years ago. Do you feel the pressure to change your aesthetic because of what people are buying right now, or do you believe they will keep wanting "the dream"? No I don't feel pressure to change. I like to make clothes that work around a woman's existing style and feeling comfortable is very important to me but this year has made me think why did I ever save anything for a special occasion!? Everyone in the studio wears our clothes every day and It is all I have in my wardrobe! I tend to dress up more in the day than in the evening. 
You graduated from Central Saint Martins, at a time when Louise Wilson was still director of the course. What were your expectations back then? I studied Knitwear as CSM and when I started I didn't exactly want to be a fashion designer but knew I wanted to work in fashion. My Pattern Cutter initially trained in Costume but she is the only one, the Production team both studied Fashion and the broader team are trained in a range of disciplines albeit all quite creative - Fine Art, History of Art, Photography. I think Fashion can learn something from most disciplines! 
How did you end up launching Molly Goddard? I always imagined I'd go and work for another brand after University but after presenting my graduate collection, IT Hong Kong and Dover Street Market placed orders and everything went from there!I have always made my own clothes, I think becoming a designer came from making things that I couldn't buy or hadn't seen before, I pictured what I wanted to wear and had to find a way to make it. I did this as a teenager to go out clubbing on the weekend – I would get home from school on a Friday night and sew a dress in a couple of hours, they often had raw edges but I loved the feeling of having something I had made.
Where do you find inspiration for your dreamy, ethereal, pieces? I really enjoy people watching, I can spend hours sitting in a cafe looking at people walk past. I go to the library often to look at old magazines, and books on art, architecture, fashion, textiles and history. Visiting markets and looking at vintage clothing is also a massive inspiration, I love finding handmade clothes which have been hand stitched with love. Not being able to do any of this for a year has felt very strange!
One of the things that always stand out in your collections are the materials. How do you discover new textiles? I like fabrics that I can manipulate and totally transform. I like to create structure, shape and volume by manipulating fabric and inventive pattern cutting, there are no extravagant underlayers or contraptions contorting the body so in that respect my work is quite different to the strictures of traditional fashion. It is important for people to feel as comfortable as possible wearing my clothes! In terms of taking up space… inevitably it feels empowering to take up three tube seats with one dress!  I really value when love and time has been taken to make something – how could you ever throw it away! I really became interested in manipulating these traditional techniques when I was studying on my BA at CSM, techniques we still use in the studio now.
What does creativity mean to you? Making things with my bare hands, turning something into an entirely new object and enjoying the process of getting there.
How would you define the Molly Goddard woman? Who is your customer? I think she is joyful with a good sense of humor. I like to think our clothes have a lighthearted and fun energy to them rather than feeling too serious. Our customer really varies so I want to make clothes that meet the needs of different women, who have different body types and who lead different lifestyles.
What has been, so far, the highest point of your career? We have had lots of very exciting moments over the years but recently I feel most excited when I arrive at the studio and everyone is busy working. I now have a studio I love, a team who are really good at what they do and the tools to do what I want to creatively. It felt like it took a long time to get here.
What to you wear on a daily basis? Do you only wear Molly Goddard? I normally wear a dress of mine with jeans and flat shoes, trainers or loafers. I layer lots of things so very rarely wear the same thing, it is always a new combination of old pieces mixed with vintage I collect.
wear the same thing, it is always a new combination of old pieces mixed with vintage I collect.
Last year you launched your e-shop. How is it going? It's going really well! From AW21 people will also be able to pre-order directly from the runway show which is very exciting. Made to Order and Bridal have also gone really well - being able to directly interact with customers has been a real pleasure and very insightful!
*Originally published in The Creativity Issue of Vogue Portugal, from march 2021.Full credits on the print version.
Relacionados
---