Once upon a time there were these little freaks that slightly distorted what we were used to know as "trends to follow". Ok, we might be overreacting. They were not freaks. They were, and are, little aliens proving that fashion is a fascinating industry, and sometimes delusional, but facing constant change. One day you're in…
Once upon a time there were these little freaks that slightly distorted what we were used to know as "trends to follow". Ok, we might be overreacting. They were not freaks. They were, and are, little aliens proving that fashion is a fascinating industry, and sometimes delusional, but facing constant change. One day you're in…

Can't touch this
For once we have consulted Wikipedia as a reference to sum up the subject that bring us here: "Hammer pants are customised/modified baggy pants tapered at the ankle with a sagging rise made suitable for hip-hop dancing. They were popularised in the 1980s and 1990s by American rapper MC Hammer. They were inspired by harem pants, which originated in the Middle East and were introduced to Western fashion by Paul Poiret around 1910." All of this is true. Hammer pants are all of this and also are parachute pants, even if the person who has popularised them does not like to call them that. In 2016, the artist told Racked: "I detest the term parachute pants. That's a new term. They're called Hammer pants. I have a pair of what we could call the Gucci version of Hammer pants. I have a pair of the Christian Dior version of Hammer pants. Probably five of your top European designers all have their version of Hammer pants. And that's pretty flattering." And it really is. But that also means that when thousands of people besides MC Hammer, the only human being who actually looks good on hammer pants (simply rewatch his videoclip U Can't Touch This, from 1990), have decided to call its own a trend that should have been reserved for: a) dance lessons; b) masquerade balls; c) short incursions into the desert, even if we still cannot define on what circumstances; d) sorting out the house. Their cut does not flatter anyone. Not even models with dream bodies that show on the runway the updated versions created by the great maisons, season in, season out. Not even bullet-proof fashion icons like Sienna Miller, Gwen Stefani or Olivia Palermo. Oh yes, they did it. 
Size (does) matter
"If there is one thing that you must buy this season is a tiny purse. Actually, the smaller, the better." This headline is from the end of 2019, but it could have been published a few days ago, mainly because there are people in this world that truly believe that microbags, also known as minibags, are the greatest thing right next to Chanel and Hermès' private sales (that in reality don't exist, at least that we know of). Spoiler: they are not. Microbags are just plain dumb - and yes, we know that by saying this we risk getting hit by the followers of the "bright-pink Jacquemus where you can only fit a lipstick, a credit card and half of your keys" cult, but it is what it is. Space to put your phone? Take it by hand. A small corner for cigarettes? Goes in the other hand. And what about the tiny, ultra-lightweight and compact blush that we cannot live without? Or the almost invisible wallet where we hide our dental floss, condoms or a tampon? And the lighter, tissues, ID, or the granola bar for if we are about to faint? They (all) stay at home. The two-per-four-centimetres-purse carriers are going to have to make choices. And those choices usually involve showing off a "brand" purse that never costs anything less than 400€ and where it only fits one thing: the lack of common sense. Attention, Simon Porte Jacquemus (the guilty one when it comes to disseminating this trend with Le Chiquito, from his sprinng/summer 2018 collection): you are so beautiful it hurts, we love you but we cannot cope with this. It is not you, it is us. 
First world problem: the shoes
Much has already been written, discussed and dissected regarding the forbidden love between ashion and Crocs - those "anti-slip, comfortable and light" shoes (that do not owe much to beauty, since they offset their lack of aesthetic with a durability and commodity that is out of the ordinary) usually worn by people whose jobs force them to stand for long hours, such as nursers or doctors, for instance. Other people, those who can choose among an entire range of shoes - sneakers, boots, stilettos, sandals, mules, kitten heels, loafers, slippers, the list goes on and on - do not have the slightest excuse to enter a store and spend money on Crocs. Right? Wrong. In October of 2017, Demna Gvasalia, creative director at Balenciaga, threw at the historical runway of the maison a diverse set of Crocs with platforms ten centimetres tall, each and every one of them decked with pins that ranged from dog portraits to countries' flags (yup, even Portugal had the chance of seeing its flag on the yellow version of Crocs by Balenciaga). One year before, Christopher Kane had already fallen into the same trap, but this time in a more subtle way, since the accessories chosen to embellish the shoes were small jewels of more discrete colours. The trend stuck around, and urban legends like "those who wear Crocs have given up on life" or "Crocs are a threat to society" began to slowly being destroyed (mainly to the fault of several actors and singers seen wearing them) and Balenciaga returned to its initial coup-de-foudre with what has most likely been the worst idea that came out of the (actually brilliant) mind of Gvalasia: the frankly hideous Balenciaga Stiletto Croc Mules that probably made Mr. Cristóbal turn in his grave.  
The struggle is real
Paris, March 2020. Fashion Week had still not been (completely) cancelled due to the pandemic, so street style photographers still had their jobs secured. Among the hundreds of editors, influencers, actors and complete strangers that walked across the city of lights, rises the most famous of them all: Kim Kardashian. Not only her, but also her older sister, Kourtney. This simple fact might seem irrelevant, at least until we find that the K sisters were dressed in Balmain. Ok, that is also essentially ordinary. After all, both of them are intimate friends of Olivier Rousteing, creative direction of the French maison. So, to clarify: the actual novelty in this was the fact that they were "suffocating" in latex outfits from the winter 2020 Balenciaga collection. And when we mean "suffocating" we are not exaggerating. There are photos to prove it, as well as the unforgivable camel toe, and as if that was not enough, there is also a video (recorded by the team supporting the two sisters) where it is possible to see Kim trying to hide her suffering while dressing the hardest part of the ensemble - the leggings - with the help of her two assistants. "I literally feel like I pulled a muscle in my shoulder", says Kim at some point, once again proving the idea that sometimes you must suffer to be on trend. Plot twist: it is not: maybe if Kim had gone a size up for that combo (that had almost went unnoticed on the model that had worn it on the runway a few months before) things would not have seemed so bizarre. Or maybe that was exactly what she intended in the first place - talk nicely or talk badly, but at least talk. We are totally in favor of latex. When used in moderation. 
Too much skin, girl 
Among the million tweets dedicated to the "cultural scene" (let's call it that) of the 2000's, there is one in particular, for this context, that deserves special attention: "Christina Aguilera was not playing around in the early 2000's". And she was not. The American singer that found worldwide success with the hit Genie in a Bottle, released in 1999, never once felt ashamed of how she dressed (or undressed) exactly what she wanted, not caring about trends and being herself a trendsetter. During almost a decade - meanwhile she started opting for more subtle looks -  the singer worn until exhaustion the combination of a microtop (or was it a bra?) and tight pants with ultra-low waist, she insisted on dresses that opened on the most unthinkable places, on ultra-tiny-shorts (someone, some day, will create a name for them) and on leather pants which ripped uncomfortably near her intimate area. Aguilera was, if we would like, an icon of feminine liberation just as much as "showing off our body" can be a synonym for empowerment and affirmation. In reality, the 2000's were really strong on that wise, but sometimes catastrophic, skin overdose. Try to google "Keira Knightley in the world premiere of Pirates of the Caribbean: The Curse of the Black Pearl (2003) or (re)watch the dozens of paparazzi photos from the same period taken to a very naked Paris Hilton: too much skin. Even Lady Gaga, who rarely follows trends, fell into the faux-pas. And there is nothing wrong with that. There is nothing wrong, we say it again, just that sometimes it is sexier to leave the crop top at home when we have already decided to wear the hot pants.  
I wanna make you sweat
"The pictures that follow this text may hurt the sense of beauty and/or hygiene of the most sensitive readers or, at long term, give you nightmares." This could have been the caption that preceded the words that follow, but even in an issue dedicated to nonsense you got to have some sense of knowing what to keep out. For example? Those pictures where, by zooming in, you can see in detail the frightening amount of sweat and humidity that is created in the ankle/feet area when using shoes, or boots, made out of plastic. If this description does not creep you out already, imagine seeing this in real life… The worst (but, in this context, the best) example are the clear tight high boots presented in Yeezy's Season 4 by Kanye West, in September of 2016. The show was already filled with controversies since, due to the intense heat, many models ended up dehydrated and forced to lay on the ground in order not to collapse. Others follow an easier path: Amina Blue, who was wearing a tight dress and stilettos, took her shoes off in the middle of the runway because, in her own words, her feet were slipping away: "It was either I was going to fall, or I was going to take my shoes off. And I felt that was the right thing to do, so I took them off and continued to walk." On the same day, Kim Kardashian was photographed with the unfortunate boots, whose massive heel makes the logistics even harder "uncomfortable material that makes it impossible not to activate, automatically, the sweat glands of any human being + boots too high, so high that the piece of plastic that goes from the knees up to those five centimetres before the derrière must hurt more than some metal handcuffs used during an inappropriate amount of time + back zip that seems to suck and pierce the skin, resulting in headaches and/or mental confusion." Huff Post wrote, on that, "Kim Kardashian's Thigh-High, See-Through Boots Are The Stuff Of Nightmares." Nightmares, exactly what we had warned you about in the beginning. 
No one said it would be easy
This January, Billie Eilish and Rosalía released a single, Lo Vas a Olvidar, with a video where it is possible to see some nail art that would make even the most distracted viewer jump of the chair. Why? Because of the 3D glass nails that appear on the screen, a more than awaited follow-up of the affair for ultra-long-impossible-nails that both singers have come to show. On stage, on the red carpet, at fashion shows, you name it, any place will do for these singers to proudly show off their contribution for that gold mine called nail art: from brand logos to jewels, anything is accepted, as long as the length is what it is desired. What does this mean? That a normal human being could never have such nails on a daily basis, under the risk of ending up incapacitated just by accomplishing ordinary tasks such as washing the dishes or giving bath to a child. Also because a normal human being could never have the resources (and by this we mean the money) to maintain such work of art - yes, work of art; in a way, whether you like it or not, a certain savoir faire is involved in this and it deserves our applause. Is it pretty? Those are other tales and, as you already own, opinions are like vaginas… Having said that, let's leave here the question for a million bucks: how many centimetres have Bilie Eilish and Rosalía's nails? Answer: it depends. There are days when they have more than five centimetres, and there are other days when… no one knows. Otherwise where would the mystery go?
My eyes are starving for beauty
The sentence that serves as a title for this text is one of the most well-known lines from the documentary The September Issue (2009), and was said by Andre Leon Talley, former editor-at-large at the American edition of Vogue. In a nutshell, what the quote implies is that Talley's eyes are (or were) thirsty for beauty. A type of beauty that was seen through his dark XXL sunglasses, which could be characterised as a mix of Matrix and Blade Runner. Weird? Not really. Weird is the (really big) collection from Sir Elton John that for long has us used to his looks that could stop the traffic - nothing is left for chance, from the unpredictable looks (sequins on a man? He has been doing that since the 70's) to the sunglasses that can range from hearts to round balls with ingrained crystals. Lady Gaga, his faithful follower, not only in terms of talent but also of his life motto "I don't care about what they think of me", is another artist that does not say no to a pair of weird sunglasses: we could make an entire article only regarding her choices that any of us would at least describe as "risky". For her, they are just ordinary. For the regular Man, that would be the same as walking down the street with a neon sign saying "please look at me". If that is the case, just search through the dozens of options that have been showing on the runway, because designers, even the ones from historical maisons (hello, Gucci!), have left shame on the floor of the atelier and have created seemingly absurd versions of sunglasses for all tastes. Or maybe let's call them "tastes". 
Translated from the original on Vogue Portugal's The Nonsense Issue, from july/august 2021.
Relacionados
---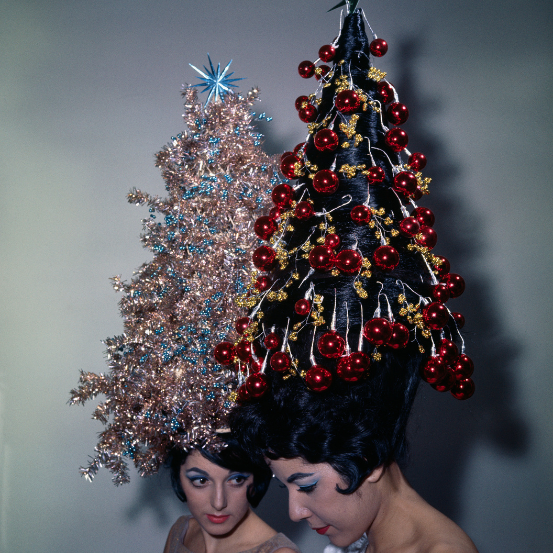 Sugestões de looks para este Natal
06 Dec 2023