What happens backstage in Vogue, doesn't stay backstage in Vogue. Here's your all access pass into the Music issue.
What happens backstage in Vogue, doesn't stay backstage in Vogue. Here's your all access pass into the Music issue.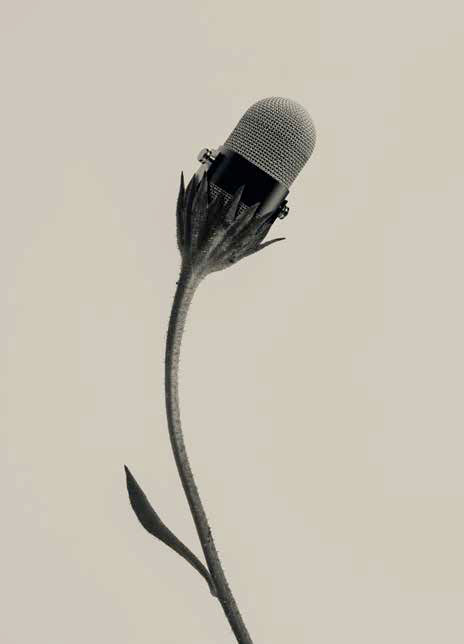 Add to Playlist 
We've asked the team from LightHouse Publishing to share the song or album of their lives - or, at least, one of the most important - and we found that the people of Vogue and GQ are as eclectic as this music issue. There are musical genres for every taste and artists and bands for all kinds of rhythm. There is just no elevator music in this playlist, that you can listen to via the QR Code. Also, read the arguments on p. 248. Oh, and we took advantage of the musical suggestions to add a B side with other melodies that fit the reader of this music issue.
Sound geometry
If you have never heard of Chladni's patterns, the article The sound of sound (p. 282) explains it all. But, interestingly, in an article where you write about music, more than listening and reading, this is an experience to see. So, before, after or during your reading, take a look at this QR Code.
Did you know…
…we have a speaker in the newsroom, which we play throughout the day to feed the creative environment? Unfortunately (or fortunately), it is always the same team member in charge of the sound, which usually runs between Ella Fitzgerald, The Rolling Stones and a relaxing jazz music stream purposely designed for the office. So far, management has yet to receive complaints.
Play it Again, Sam
There are songs so good that we just want to listen to them on repeat. And spaces so good and versatile that we just want to go back there time and time again. This is more or less what happened when we came across Safra - the visit was so fruitful that it ended up serving as a background twice: in the interviews with Ana Moura (p. 82) and Tiago Bettencourt (p. 236). But, looking at the images, one wouldn't even say that there is a repetition. This is because Safra is a multidisciplinary space, housing nooks and crannies that reflect it. Located in Lumiar, by Amorpho and Sitio, it's a project with a focus on artistic and cultural creation that, through the provision of ateliers and workshops for artists, workshops, exhibitions, production of events and shows, seeks to cement local and international synergies.
Best Original Soundtrack
Having a guest editor is so 2019. In a music issue, what's trending is having an original soundtrack. That is why we invited Tiago Bettencourt: to create a soundtrack for our issue totally dedicated to the métier in which he moves around in. That was how Partir de Novo was born, the theme that's a score to this issue, and which the artist talks about, among other matters, in the interview to read on (p. 236). More than a song, the melody was designed in a cinematographic format, a true soundtrack for a sequence of images and texts that you can start reading now, listening to the composition in the QR Code.
Augmented
A cover that can be read, seen, touched and heard. The only sense that could be missing would be taste, but even that is on it, as the issue has musical genres for all tastes. For an audiovisual dimension (emphasize the audio, either by the sound of the sound or by the sound of silence), point to the cover of the magazine through the augmented reality app LightHouse Publishing AR, available for free through the QR Code.
Originally published on Vogue Portugal's The Music Issue, from june 2021.Full stories and credits on the print issue.
Relacionados
---